iRacing Force Feedback Setup Guide
Force Feedback is the main sensory connection between a sim driver and the game, without it, you will feel separated from the notion of driving. Modern sim racing steering wheels have come a long way over the last 15 years, from direct drive to gear driven and everything in between. Manufacturers of wheels have always been chasing the idea of ultimate realism. In short, we will never reach real-life experience through Force Feedback alone, however, it is crucial to the overall driving experience.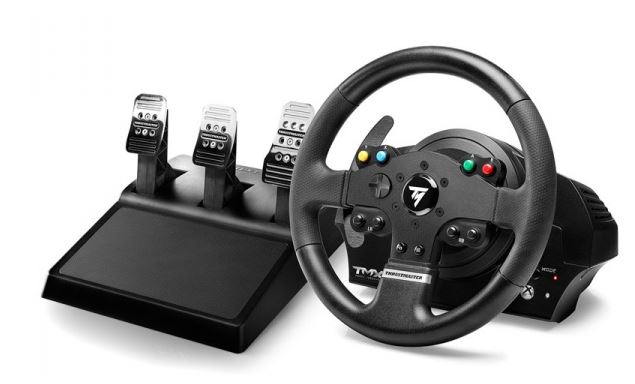 Thrustmaster TMX
This article will specifically be covering the settings within the iRacing platform, but there are general rules you can take away from this article on correct 'feel' for FFB (Force Feedback) and general differences between game settings and wheel settings (which are two separate things by the way). At the end of this article is our Sim61 recommended setup process which you can skip directly to here. This process is a full complete guide for setting and tuning your FFB correctly in iRacing.
Without a motion simulator rig, you rely solely on feel through the steering wheel. Often you'll hear real-world drivers explaining that they drive the car through their "rear" which is a sensation that you live without as a sim driver. Having a dialed in FFB therefore is crucial to understanding how the car moves out on track.
A quick explanation describes FFB as the relative rotational force provided by the steering wheel to replicate the in-game steering wheel movements. When driving a real car, if you turn the steering wheel to the left or right, the wheel naturally wants to pull back to centre. FFB should replicate that sensation.
It is important to understand that unless you own a motion rig, air padded seats or vibration plates, the only way you will get any 'real world' feedback from a racing game will be through your FFB. It is therefore incredibly important to have it set correctly. As you will discover in this article, there is no "one size fits all" setting. The main differences in settings come from two factors, the type of wheel you use and your personal feel.
So correct realistic FFB should be as close to real-life driving as possible. As a driver, you want to feel every kerb, every rumble strip and every bump in the road. Most importantly, however, you want to feel the weight of the car. When the car turns into a bend, the weight of the car moves onto the outside wheels, as the weight transfers, the force through the steering wheel will change. When set correctly, you should be able to fully feel how the car is moving through the feeling in your hands, whether the car is understeering (feels light) or oversteering (sudden force) or even when the car is on its limit of grip. Pro and Esport drivers will have this setting dialed in and will always have complete control over the sensation of the car's movement. 
A point to note is that depending on the type of wheel you use can limit how much feel you can get depending on its drive type. It is widely thought that direct drive steering wheels such as the Fanatec range provide a better feel than belt driven and gear-driven wheels. There is a great article written by simracingsetup.com that talks about the differences between them in more detail which we would recommend reading.
There is a lot of confusion when it comes to the differences between firmware settings and game settings. The two things are separate and need to be configured separately.

Firmware is your wheel's specific settings. These differ from the brand and model of wheel you use. For example, Fanatec Firmware will be completely different from Thurstmasters firmware. When you first install your wheel, often the manufacturer will provide a guide of how to set up and calibrate your wheel. Within these guides, you may have the option to control different properties of your wheel, such as FFB strength, lockout angle, dead zones, etc. It is important that you set these to your specific preferences via the guidance from the manufacturer. This also needs to be done before you go into your iRacing settings. 
Try these links for the manufacturers setup advice:
AccuForce – Documents and Manuals (simxperience.com)

Fanatec – Fanatec Tuning Menu Tutorial – YouTube
Thrustmaster – Thrustmaster – Technical support website
Logitech G29 + G920 – Downloads – Driving Force GT – Logitech Support + Download
Before changing anything, make sure that you have the latest version of iRacing installed, if you're not up to date, then iRacing will display a message, stopping you from entering any races. Click on the suggested link and follow the instructions.
Before adjusting anything (especially if this is your first time changing the settings) perform a wheel calibration by clicking the 'steering' box underneath the steering wheel diagram on the options page. Follow the onscreen instructions. This will check that your wheel is turning to the correct field of angle.
As I am sure you are aware, there are a lot of adjustments you can make and it isn't always clear what each of these settings does. In this section, we will cover the settings directly related to FFB and wheel setup within iRacing so that you can gauge a better understanding of how to finesse each one.
Wheel Range – 900° – Wheel range is the direct ratio from the virtual steering inputs to the physical wheel inputs. Set this at 900° and leave it. If you add more than 900, then your physical inputs will be dulled by the Sim, if you go below 900, your physical inputs will be exaggerated by the Sim
Map Range –  Map from your wheel range to the virtual car's range, if greater, to better support wheels with limited rotation. At slow speeds, the mapped range will equal the range of the car, but we limit the car's lock to lock at speeds to this value to help improve steering sensitivity.
Enable Force Feedback – to state the obvious, this turns FFB on or off. If your wheel supports FFB, turn this on.
Use Linear Mode – check this box if you are using a direct drive steering wheel, for belt and gear-driven wheels, leave unchecked. (If you are unsure what type your wheel is, a quick google search should tell you).
Reduce force when parked – again, fairly obvious. When the car is parked (not moving) the steering becomes lighter and easier to turn. This is a user preference.
'Max Force' or 'Strength' – this is the maximum output force that will be given to the wheel. Our advice here would be to set this last. Go out on track for a test session and open the 'Graphics Adjustment' tab. At the bottom of this list, you will have the 'FFB Strength' setting. Drive around for a couple of laps, without hitting any kerbs or unsettling the car, until the 'Auto' bar appears. When this comes on, set the FFB Strength to the recommended auto setting and this should put you at a good starting point for adjustment.
Wheel Force – For this setting, you need to know your specific wheels Maximum Output Force (in Nm). Each brand and model of wheel will be different. You can again check this with a quick google search of your steering wheel. Set 'Wheel Force' to your manufacturer's maximum force.
Damping – Damping is the effect in which iRacing smooths out the force effects felt by the car. 0% would be as close to real as possible, whereas 100% would feel like driving through butter. Your setting here depends on your type of wheel, for direct drive, you want a low percentage, 0-5%, for belt-driven 5-10% and for gear-driven 10%+. Lower percentages on entry-level wheels will feel notchy and jerky, find a balance for this one by testing a few settings.
Min force – Usually set this to 0%. Min Force applies a low-level force to the wheel when it is in a neutral position. When set to a high percentage, the wheel becomes more resistant to movements. Min Force is most useful on entry-level wheels, such as the Logitech G29, G920, Thrustmaster T150, Thrustmaster T300, etc.
**At the bottom of the page – 'Use custom controls for this car' – tick this box. This will then save these specific settings you use for this car and will reuse them when that car is selected again. This will come in handy when adjusting each specific car's settings.
Clipping essentially is where the game is outputting a larger force to your wheel then it is physically able to produce. This will create a 'dead zone' where the wheel will max its available output and you will lose feel at the harsher ends of force. 
As a driver, it will be difficult to feel when the car hits kerbs, vibrates or generates certain car movements like snap oversteer. 
To know if your steering wheel is clipping, you can press the 'F' key whilst driving. This will bring up the FFB window. The bar marked with an F is the force being given to the wheel. You do not want this bar to go red at any point on the lap. If it does, this means that your wheel is maxing out and clipping. Ideally, you want this bar to be hitting the orange zone when at high force.
You can now adjust the 'Max Force' or 'Strength' setting in the options tab to move this out of the red. This might be a trial and error process before you find something that fits. Also, be aware that different tracks will have different loads. Similarly, different cars will also produce different forces, so this Clipping limit will change (you'll need to adjust Max Force from car to car or track to track).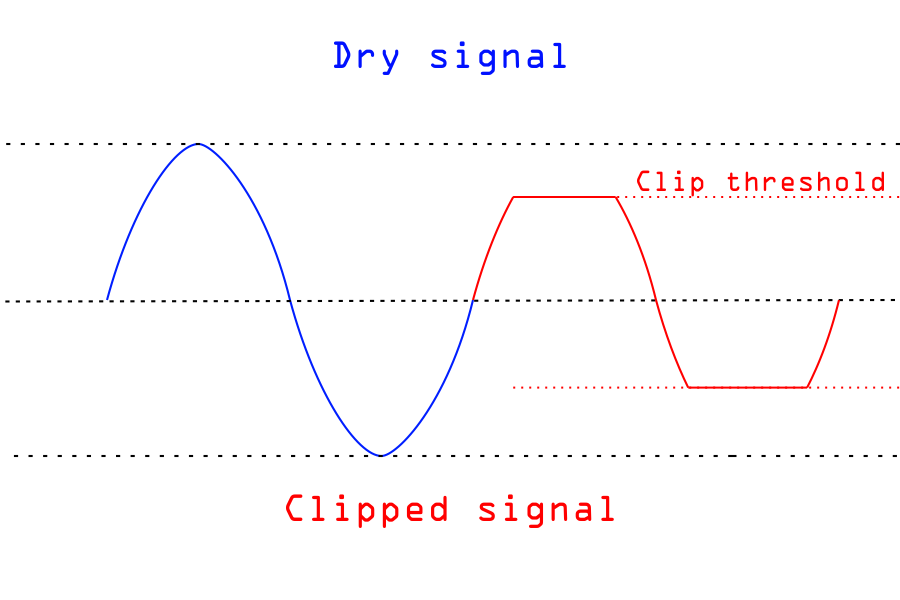 Graph to show Output Force with and without Clipping
1 – Install and Calibrate your specific Firmware
Each manufacturer of wheels has a recommended installation process for their products. Brands such as Fanatec and Thrustmaster also have their own levels of settings that need adjustment before you are able to get started.
2 – Run iRacing Calibration
This is the setting in-game. Perform this action to ensure that the wheel is functioning as it should.
3 – FFB Options Setting
Check 'Enable Force Feedback', 'Use Linear Mode' (for Direct Drive only), 'Reduce force when parked'. Set 'Wheel Force' to your wheels maximum output. You may need to google your specific wheels max output if you are unsure what to set it to.
4 – Testing
Set 'Damping' and 'Min Force' to 0. For Belt and Gear-driven wheels, Damping will need adjustment, make changes between 5% and 20%. For Min Force, leave at 0% unless using a lower end wheel, where again adding 5% to 20% depending on the amount of resistance you want the wheel to give back.
5 – Use the Auto button to set Max Force
When on track, use the 'Graphics Adjustment' window to set the FFB Strength using the 'Auto' function. Avoid any kerbs or sudden shocks to ensure that an accurate setting is calculated. Repeat this step until you have an average reading. This will be different per car and per track!
6 – Adjust and Finesse
Like with all motorsport, it comes down to driver feel. Adjust your Damping, Min Force and FFB Strength settings until you are comfortable with how the car is performing. Always checking for Clipping throughout to ensure you aren't maxing your wheels potential. 
Sours: https://driver61.com/sim-racing/iracing-force-feedback-setup/
The Best Sim Racing Rigs for 2021
A mark of a good sim setup is the quality of your hardware. However, sim racing setups are a bit of a balancing act where your accessories are equally as important as your hardware itself. From steering wheels to sim racing gloves and much more, everything you possess in your arsenal dictates your sim racing skills, your quality and your efficiency. Be it F1, Project Cars, Assetto Corsa Competizione or any other sim racing title, your sim rig is just as crucial as basically everything else. For this piece, we will take a closer look at the beauty of sim racing rigs and what you should be looking for when picking one.
What is a Sim Racing Rig?
So now that we have piqued your interest, what exactly is a sim rig? In simple terms, a sim rig is a basic structure that sim racers use to seat themselves and mount their devices in simple terms. This includes racing wheels, shifters, pedals and entire monitors sometimes. So, in general, a sim rig is the building block to your perfect sim racing setup. Sim Rigs come in a variety of shapes and sizes, naturally. But that is just the fundamental difference.
Things get complicated with form, orientation, number of mounts, etc., taking precedence too. The main element in a sim rig is the seat. You are greeted by a range of seat types, shapes and materials. Then comes the way the seat is laid, the mounts' layout, and the rig's primary purpose. Sim rigs can be differently designed based on the use. So, open-wheel sim racing will have a slightly different looking sim rig than, say, rally.
Sim Rigs are the closest prototypes you can get to real-life racecars. The seats and the entire rig are meant to emulate a vehicle's cockpit, and it precisely does that. Eventually, the size, style and colour boil down to personal preferences and your targeted racing category.
Why Do I Need a Sim Racing Rig?
Technically speaking, a sim rig would be an afterthought for most sim racers. That's not because it's crucial but because you can certainly race without one. However, there is only so much you can perform while sitting on a dining table chair at your desk or even a gaming chair, for that matter. Having a dedicated setup is just the first step to achieving optimal performance.
Usually, you'd be mounting your racing wheel to the desk with the pedals placed firmly on the floor. This may be an ideal gaming position, but it isn't an ideal racing position. Passenger cars have upright seats, but that is rarely the case when it comes to motorsport. The same distinction is visible in sim racing. The closer your sim racing setup resembles the real cars' cockpits, the greater immersion and professionalism offered. This is the exact place where sim rigs come into the picture.
What Features Make a Good Sim Racing Rig?
Sim rigs offer you an all-in-one place to fix all your devices. A versatile rig comes with mounts designed for your wheel, your pedals and even your gear shifters. It's just like driving in a real racecar! You also get a more comfortable seating arrangement with a greater choice of materials and style than simple chairs. The sim racing community consensus is that a sim rig is a vital addition to your sim racing setup, and sooner or later, you will need one. If you do plan to buy one, keep the following in mind:
Form
Form refers to the shape of the sim rig. You have sim rigs that are more horizontal than vertical, and unless you plan on sleeping on a rig, it is better to stick to the forms recommended for the racing category you are interested in. Sim rigs designed for rally and endurance are more upright than the ones intended for open-wheel sim racing.
Size
This is important as this determines how well you will be able to use the sim rig. Taller sim racers will need to opt for more extensive, longer sim rigs to allow their feet to be stretched enough while using the pedals. Many manufacturers offer custom size options if absolutely required, but you can always check out the dimensions to make a choice.
Number of Devices
Strictly speaking, you only have to worry about three devices. If you are an open-wheel or endurance sim racer, you only need to focus on the wheel and pedal mounts. But if you like to engage in rally sim racing, make sure you find rigs with proper gear shifter mounts and handbrake attachments.
Budget
Last but not least, budget. Sim rigs aren't cheap and certainly cost a pretty penny. Think of it as an investment rather than a necessity. You will not suffer while sim racing without a sim rig but will definitely benefit from it. This may be the only con to purchasing a sim rig, along with the requirement of proper space in your house/gaming room to accommodate the setup.
Our Sim Rig Recommendations
So, now that we know what to consider when looking for a sim rig, it's time to show you a few models we think are universally "on fire". These are the most sought after, and most used sim rigs and people from all racing backgrounds recommend these rigs, including us!
Our Recommendation – Next Level Racing F-GT
One of our absolute favourites, this particular sim rig offers absolute bang for your buck. This sim rig is one of its kind with a dual seating mode. You can adjust the seat attached to the F-GT rig to suit either endurance racing or open-wheel racing. Not just that, the rig itself is a work of art with a sturdy and beautifully constructed frame and mounting structures.
You can also use this sim rig for flight simulators! Time to play some Microsoft Flight Simulator in the downtime, right? You certainly don't get sim rigs that can do it all, and the Next Level Racing F-GT sim rig is the closest thing to sim rig heaven if such a thing even exists. Hence, this is our top pick for the best sim rig you can buy. The Next Level Racing F-GT sim rig is priced at 499 USD.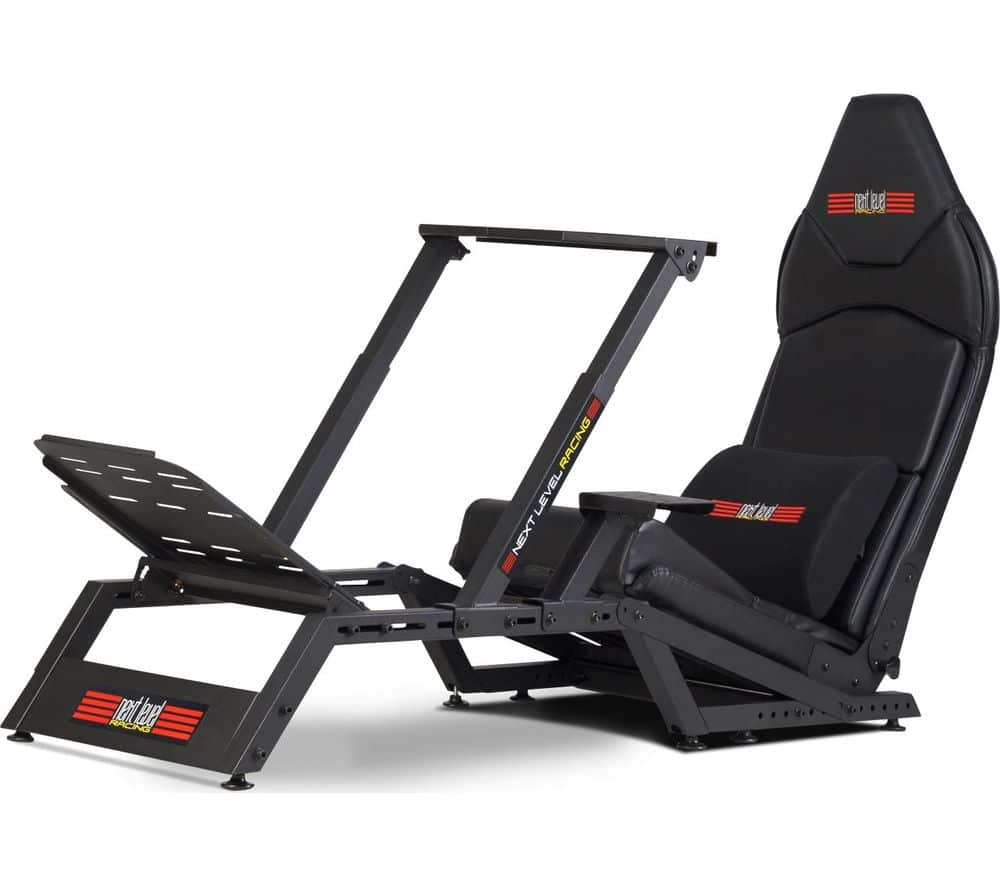 Playseat Evolution
Playseat is probably the first name that comes to everyone's mind when we mention sim rigs. And as far as basic sim rigs are concerned, Playseat Evolution is your perfect starter sim rig. You get a minimalistic and clean structure and a cosy seat to go along with it.
There are various colours and even branding to choose from, including DiRT, Forza Motorsport and Gran Turismo. They do cost slightly more, but you may decide to buy those if they catch your fancy. Our personal favourite is the Playseat Evolution Alcantara Edition. The Playseat Evolution sim rig has a price range from 349 USD to 482 USD.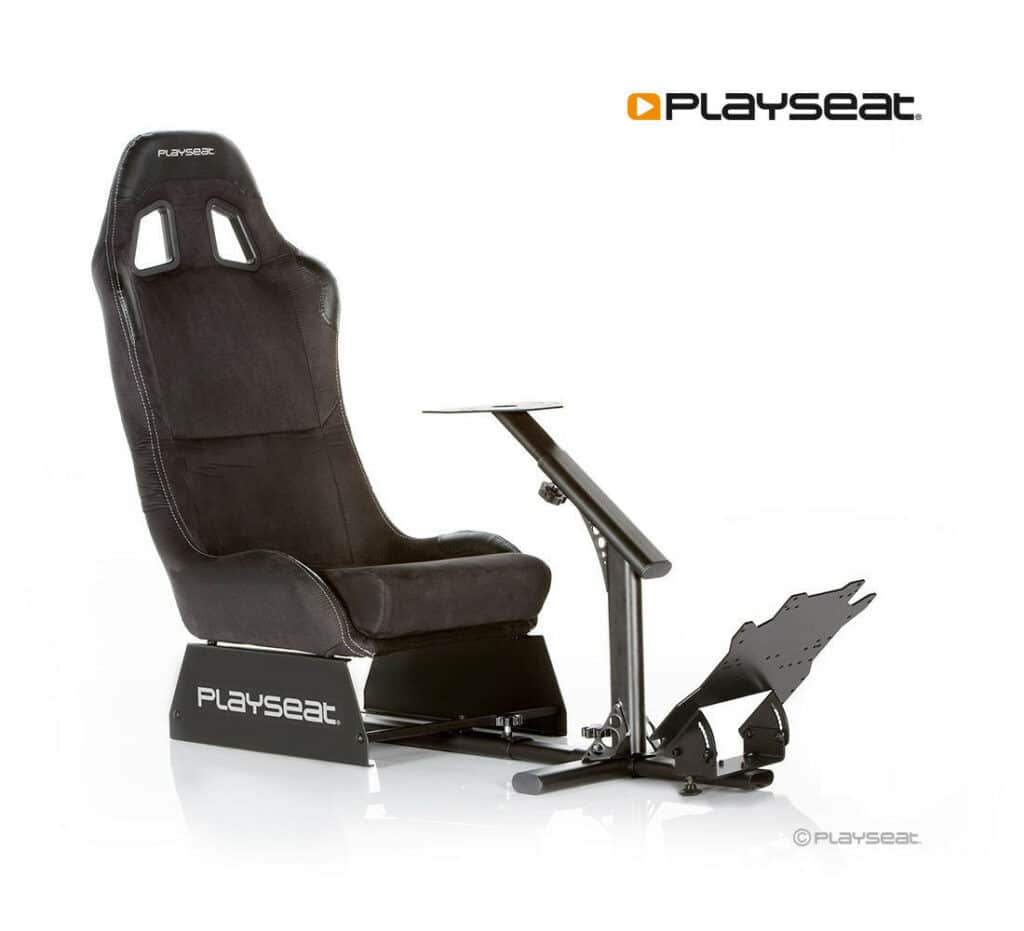 Sparco Evolve GP
The brand of Sparco is synonymous with motorsport, and recently, sim racing too! Sparco makes excellent sim racing gear and accessories such as sim racing gloves and shoes, and they have now ventured into the art of sim rigs as well. With the Sparco Evolve GT, you are treated with a sleek, sporty and trendy design with all the bits and bobbles available for you to customise.
Sparco offers you options to attach monitors, keyboards and entire PCs to your rig. Fun fact: If you were to get a Sparco Sim Rig, you could rest assured on one thing. You will be getting the best possible seat to race on. Sparco is one of the finest race seats manufacturers, both in real life and in the sim world. The Sparco Evolve GP sim rig starts at 1500 USD.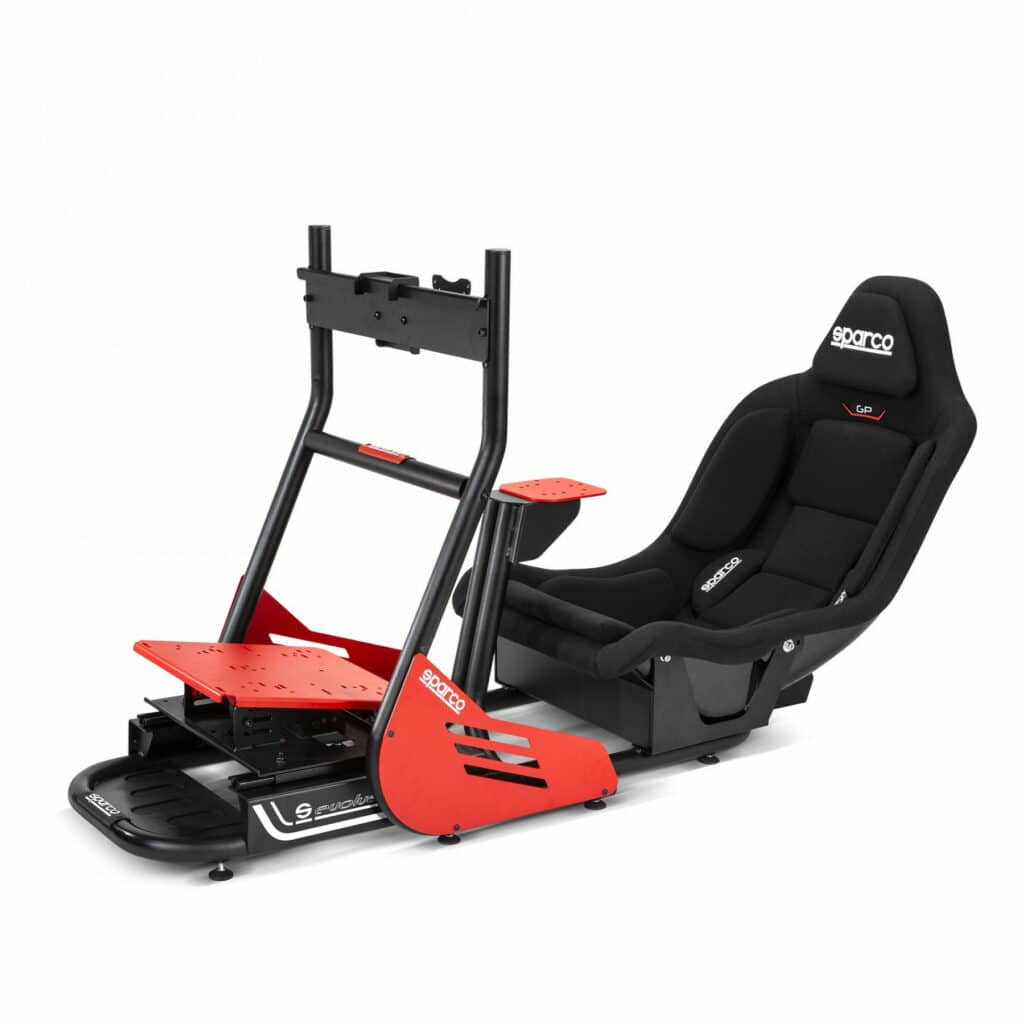 SimXPro SXP Basic Rig
We are throwing this here for the teeny tiny population of sim racers that may benefit from this quirky rig. Calling this a sim rig is a stretch as a frame is a better description. The SXP Basic Rig is just a bare aluminium frame with plates/base for mounting your pedals and your racing wheel. You have the option to add a shifter/handbrake mount and customise your wheel mount to fit a particular shape/form.
The SimXPro is so basic that you don't even get a seat provided with the rig by default. However, it is probably the cheapest sim rig on the market (while still being firm), and you will always be able to work under budget to have a seat separately installed to the frame. The SimXPro SXP Basic Rig is priced at just under 300 USD.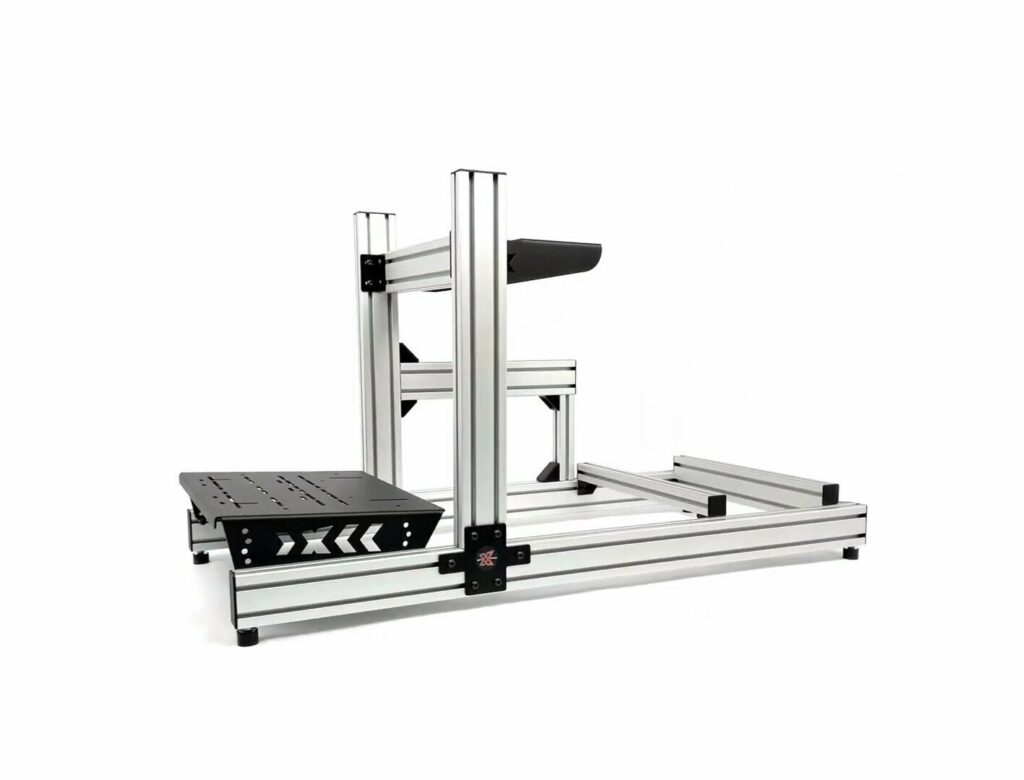 Playseat F1
We told you that Playseat is good, which might be one of their best, if not the best, sim rigs ever created. Although geared mainly towards F1 and open-wheel racing, you can still use this sim rig for Assetto Corsa Competizione. There are various colours to choose from, and it is the go-to choice for a lot of esports racers.
The rig is compatible with all wheels and pedals and even with all major consoles/systems, making this an attractive product. The Playseat F1 Black is our personal favourite. The Playseat F1 sim rig starts at 1207 USD and goes up to 1448 USD.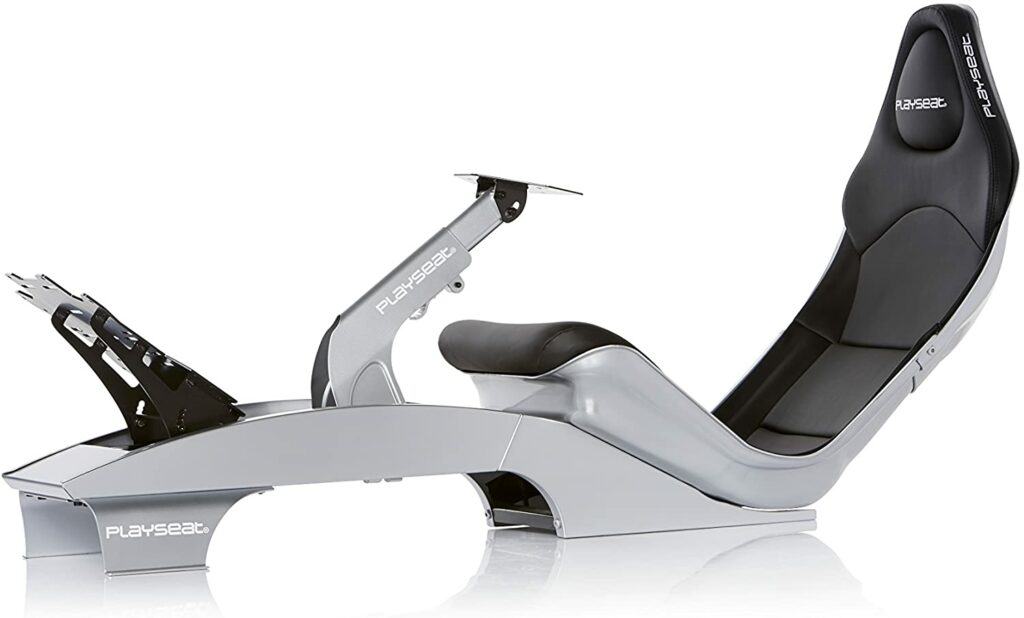 Fanatec Rennsport Cockpit V2
The last name on our favourites list is also one of the newest entrants in the sim rig market. Fanatec has always been known to be in the upper echelons of sim racing equipment, and their latest sim rig is a testament to that. The design looks like something straight out of a fighter jet, sophisticated and perfect for hardcore sim racers.
Be ready to burn a hole in your wallet, though and hence we recommend this engineering marvel to the most serious and professional sim racers. The Fanatec Rennsport Cockpit V2 sim rig starts at a base price of 1200 USD without any accessories. Expect the final amount to increase after additions.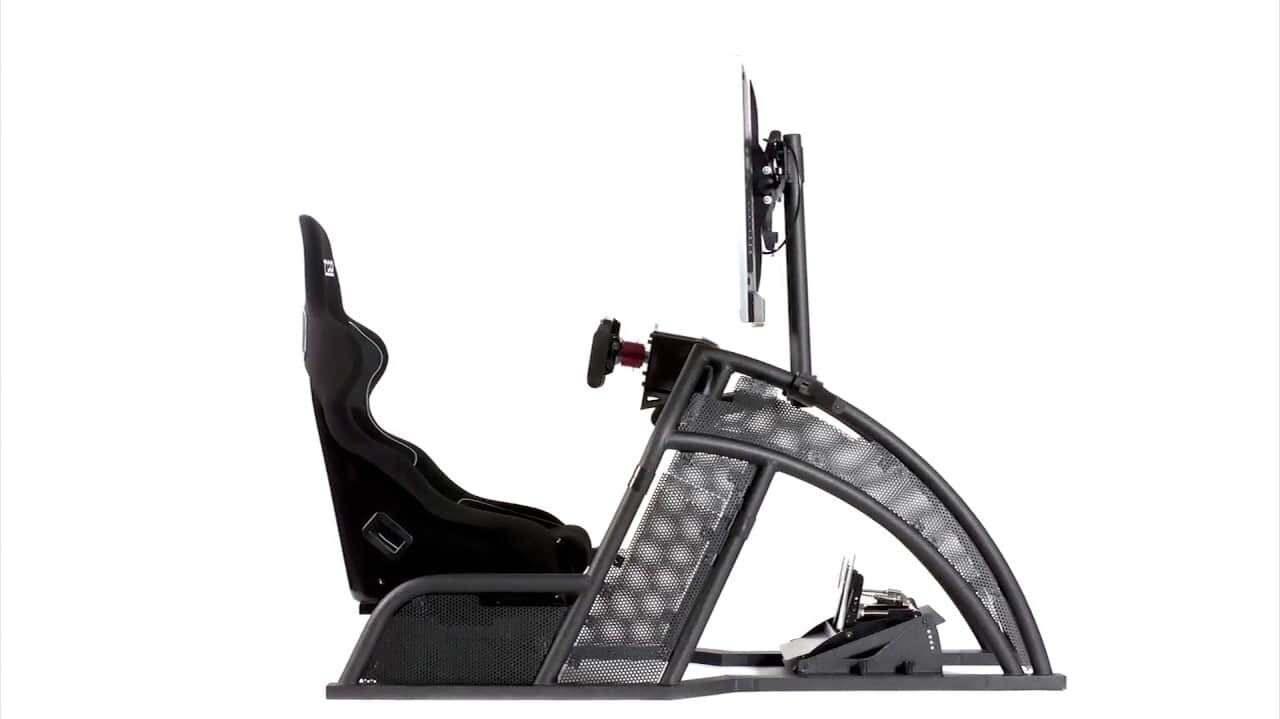 RSEAT RS1
If Tron or Cyberpunk were to have sim rigs, they would look like the RSEAT RS1. The incredibly mean-looking and aggressively styled frame feels very heavy and robust. The RS1 sim rig is a chunky structure with tubular pipes forming the frame rather than bars which is a welcome change. It costs a pretty penny but is more than worth the price tag on it.
RSEAT is known for making the best seats in the business, like Sparco, and the best sim rigs like Playseat. So, you essentially get the best of both worlds and at a similar price. For our pick, we are huge fans of the RS1 Assetto Corsa Edition. The RSEAT RS1 sim rig starts at 700 USD.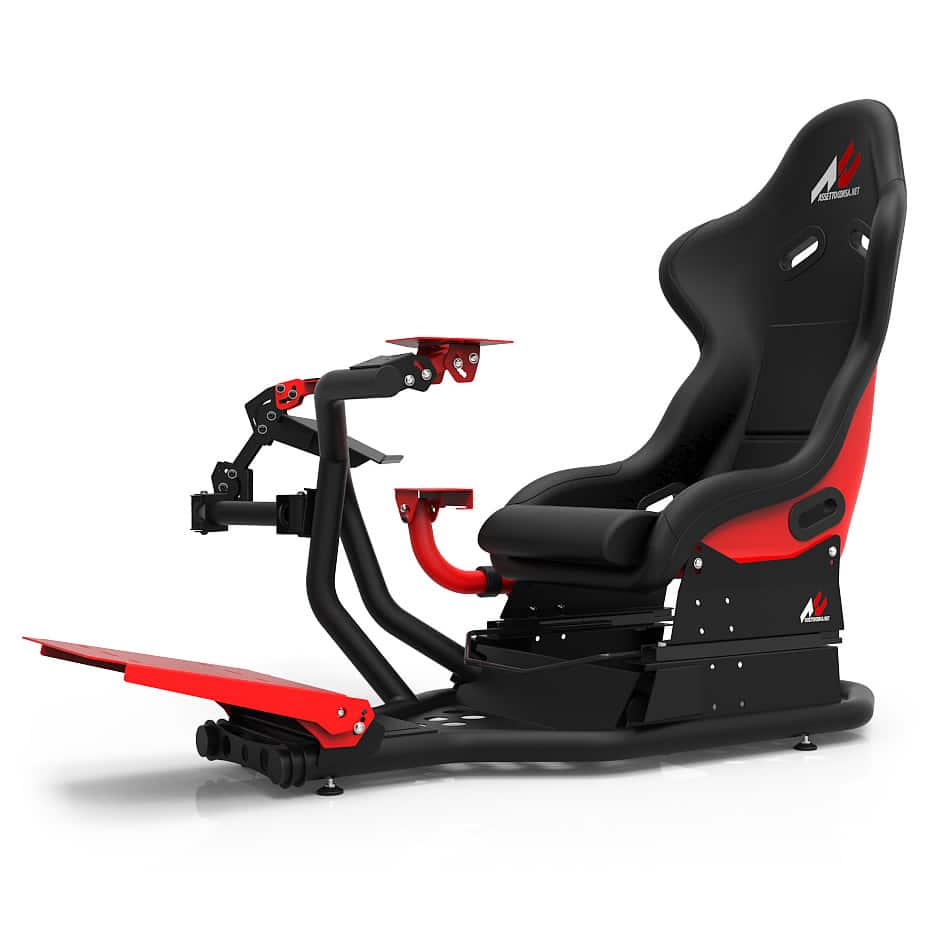 GTR GTA Lite
If you are looking for something like the SXP Basic Rig but in a little more appealing fashion, the GTA Lite is better suited to your taste. The GTA Lite has a much better-looking chassis frame compared to the SXP and is thinner too. The frame dimensions are highly adjustable, with the wheel mount, stand length and pedal inclinations all adjustable.
Keep in mind, though, the sim rig cannot be fitted with a racing seat, and it requires a regular/gaming chair in front. However, that is just a small kink in its armour, and the GTA Lite is a reliable budget-friendly option for beginner sim racers. The GTR GTA Lite sim rig is priced at 200 USD.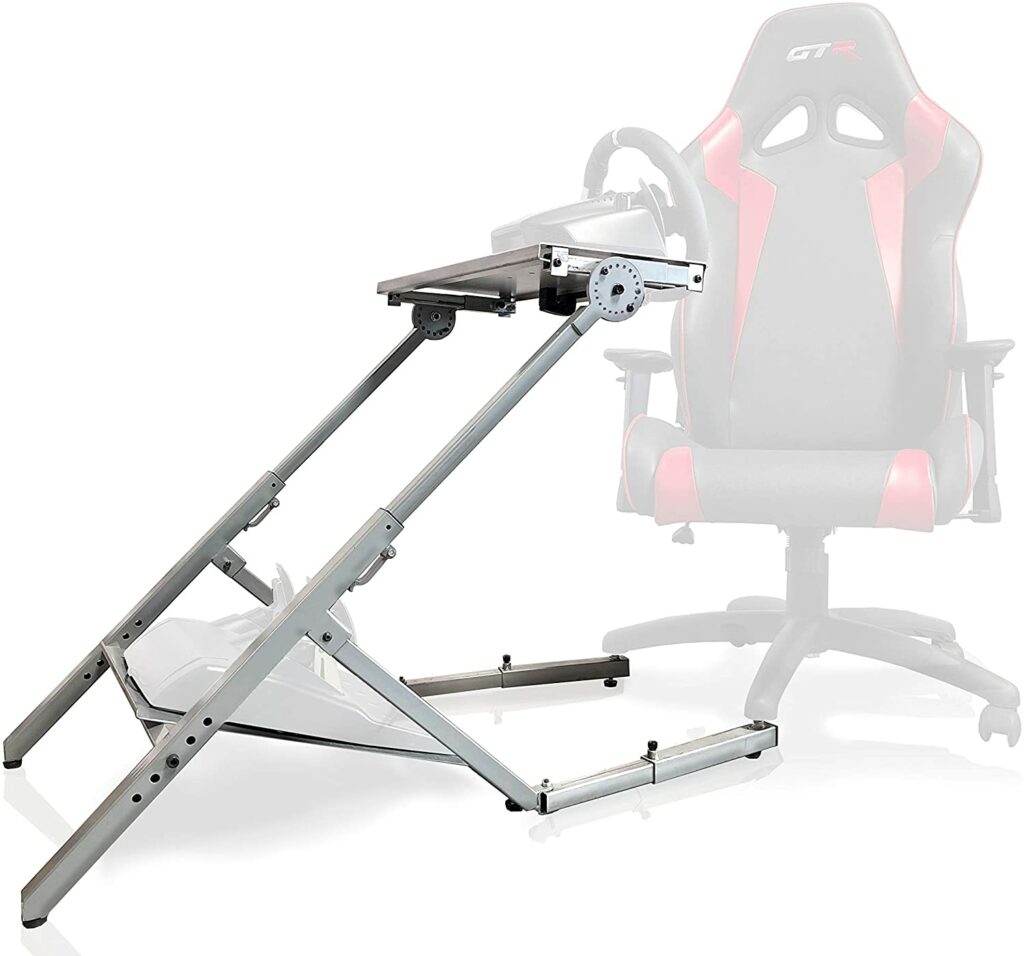 GTR Motion Simulator
We've saved the best for last. Well, one of the most expensive, at least. The GTR Motion Simulator is the only "active" sim rig on our list. The sim rig is a complete motion simulator with a leaning, tilting and sliding seat surrounded by all the bits and bobbles need to mount your peripherals.
The sim rig also includes a monitor mount with the capacity to attach three different screens or one giant curved one, whatever catches your fancy. The sim rig is oriented toward rally and endurance sim racing and flight simulator setups, but you can use it for open-wheel and arcade racing. It is a costly rig, but certainly one of the best money can buy without going overboard. The GTR Motion Simulator sim rig is priced at 3500 USD.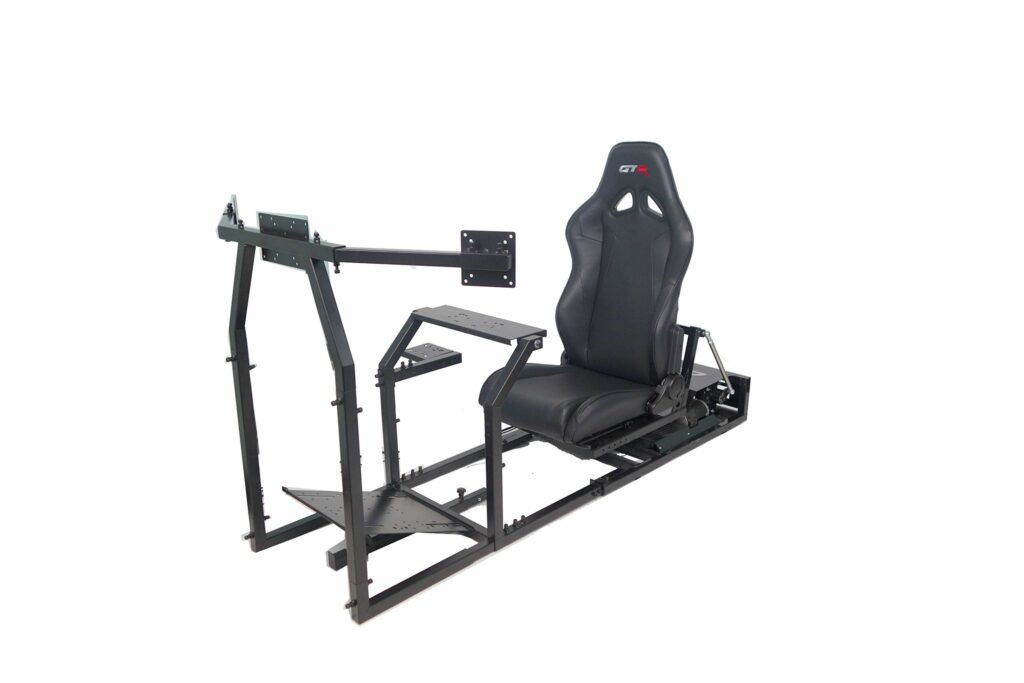 A sim rig is probably the most overlooked part of a sim racing setup, and now that you're wiser, it is only a matter of time before you step up your sim racing game. Plan well, choose the right rig for you and don't forget to test your new setup out over at Daily Racing. As always, there are many events for you to explore and compete in at The Sim Grid. For more guides, lists and tutorials, make sure to visit Coach Dave Academy regularly! Stay tuned for more.
For a wide range of sim rigs and other sim racing products, visit Digital Motorsport.
Sours: https://coachdaveacademy.com/tutorials/what-is-the-best-sim-racing-rig/
Last updated: October 11th, 2021
Picking the perfect racing seat for your sim rig is undoubtedly a crucial factor when putting your cockpit together.
Without knowing what you're looking for, it's pretty easy to spend too long looking for the right seat for your simulator. In this guide, I aim to help you with the otherwise lengthy task of choosing a seat that will fit your body shape, match the comfort or sportiness you're looking for, and fit your budget.
I'll be covering six racing seats from professional automotive brands, and I'll go over what sort of mounting solutions you'll need and what you should look for when you're ready to buy.
If you're looking for an actual sim racing rig that includes an integrated seat, frame, and base, then be sure to check out my other guide to the best sim rigs on the market, as today I'll purely be focusing on stand-alone seats to go with a cockpit you've purchased without the seat.
Our top seat recommendations:
How to choose a sim racing seat
The biggest thing to remember when picking a racing seat is that the process will have a certain amount of personal relevance. There're a few things that I'd consider to be cardinal buying rules such as something that caters to both comfort and the practical side of sim racing, but otherwise, it all depends on your budget and preferences.
Probably the most important thing you should consider before committing to any particular model is whether or not your seat will fit you. It's good practice to measure yourself much like you would for new clothing, and have these sizes handy when you're browsing online for a new seat. All seats have a measurement guide like this:
The point is that you want your sim experience to feel as real as possible, so make sure to check out the adjustability of all seats to ensure that you'll get the best seating position that makes you feel like a racer.
As with any sim racing equipment, I recommend that you spend ample time researching a variety of trusted brands, but a bonus in this department is that you are not only limited to sim racing brands. You have the option of selecting real racing seats that are built for use in real-life race cars, which can be bolted onto a frame with the right seat mount.
Of course, some people are happy to play sim racing games from an office chair, but if you're looking to step up your immersion levels, you can't beat a proper bucket seat for the bolstering hip support they can provide, which is especially important if you race for more extended periods. It will pay dividends, in the long run, to invest in a good seat.
When you start your search for a new racing seat, here is a quick checklist of items to keep in mind:
Frame/shell materials (steel, fibreglass, carbon fibre)
Upholstery materials
Ergonomic and adjustable design
Lumbar support
Secure mounting system
A collection of brands that I always consider trusted and worth their salt within the seat market are Sparco, Recaro, and OMP. They all offer a wide variety of products at various price points, making them suitable for absolute quality. Of course, there are a lot more companies out there producing great seats, and I'll cover a couple of them here, but you can't go wrong with a seat from one of these three reliable brands.
Even though my advice here is founded on a lot of avid sim racing enthusiasm, I will always recommend doing more research before buying anything for sim racing. If you haven't done this already, make an account on Reddit and find the sim racing subreddit where people share stories and recommendations about all things sim racing-related.
You'll find people who have similar preferences to you, for example, and these individuals can be valuable sources of information as to where you can find useful upgrades or whether you should try out certain sim racing products. So, let's take a look at what I consider to be five of the best seat options available to buy right now put in order of cost.
SimLab Speed1 sim racing bucket seat
This very professional-looking offering from Sim-Lab is called the SPEED1, and it's one of the newest products available from this well known sim manufacturer.
It's a non-FIA approved (which makes it less expensive, but without impacting quality) fibreglass seat with the kind of ergonomic shape you'd expect from such a well-respected sports manufacturer, which makes it ideal for sim racing drivers. There's a black gel coating on the rear of the seat, with provisions for a 5-point harness in case you use a motion rig. Mount to your sim racing rig (including those on offer from SimLab themselves) using standard side mounts. We think this will be a very popular seat with sim racers this year.
Cobra Monaco Sport steel frame seat
The Monaco Sport is my first recommendation and my most budget-friendly option in this guide. It's an excellent choice for anyone looking for a bucket-style racing seat, who is not quite ready to invest in a fibreglass or carbon shell.
The Monaco is actually a non-FIA approved version of the popular Monaco Pro seat offering a more cost-effective alternative for where FIA homologation is not required. The Monaco is based around a fully steel plated design, for both outright strength and incredible rigidity.
This seat can be side or base mounted and is trimmed in a body cooling spacer fabric to reduce perspiration, with colour options including black, grey, red, and blue for the upholstery. Both the black and grey options are available in cloth and vinyl, while red and blue are only available in cloth. Being constructed of steel, the major downside to this seat is its weight coming in at 10.3kg, but for the price, this is to be expected.
Motordrive
Probably the least known brand on my list, Motordrive is somewhat a hidden gem in the world of sim racing seats. The small yet highly professional manufacturer make superb seats that offer a lot of aspects you would typically pay a lot more for, meaning the Pro Seat from Motordrive is an exceptionally great value seat and provides a hell of a lot of bang for your buck.
The seat features FIA approval, with a life of up to 8 years with the manufacturer's re-certification service and is one of the few seats (if not the only!) at this price range that includes a carbon homologated shell.
This seat weighs just 4.2kg, is side-mounted, available in various breathable fabrics, and each unit is made to a bespoke size, meaning it is fitted to match your height. You simply need to inform the company of what dimensions you require during the checkout stages of your purchase. This seat is also compatible with an optional bolt-on head restraint and the company can offer optional personalised embroidery which is a great added touch.
OMP HTE EVO fibreglass seat
Next up is an offering from OMP, a world leader in the field of design and manufacture of safety components for race cars. The Italian firm who have been producing seats since 1973 now offers the HTE EVO Fibreglass Seat which has a black gel coated shell with a built-in padded head restraint. This seat is upholstered in velour and Airnet for improved breathability and padded with high-density materials with grip-enhancing dotted fabric on the side bolsters and shoulders.
Another FIA approved racing seat; this is a very professional choice that offers removable split leg cushions and an adjustable lumbar cushion for added comfort. It has high-profile side bolsters for increased lateral support and has been designed to accommodate various heights of drivers. The seat is side-mounted, is compatible with all types of FHR devices, and weighs 6kg.
Recaro Profi SPG fibreglass seat
The Recaro Profi SPG is a timeless classic in the world of motorsport. The original and most popular Recaro seat, this model is used by clubman and professional racers alike, as well as a collection of sim racers. Constructed from a strong and lightweight fibreglass reinforced polymer (GFRP) shell featuring deep side bolsters and a high grip surface on the shoulders to give optimum lateral support, this seat is the perfect choice for those of you who take part in longer races as it maintains a high level of comfort for multiple hours but is still stiff enough to offer the support where needed.
This seat is FIA approved and features anti-slip material on the shoulders to reduce body movement. With regards to the size, you have two options: standard or XL. Again, you will need to purchase additional side mounts for this seat.
Sparco QRT-C Carbon seat
My top-shelf offering for this guide is the Sparco QRT-C. It's a carbon shell competition seat that has been designed using the latest CAD technology.
This innovative design process increases the structural rigidity of the seat without increasing the overall weight. While there are many other seats priced way above this one that you're likely to come across when browsing, I recommend this as a reasonable top end seat for sim racing as you're not going to run into the same real-world issues as actual racing drivers, so paying more for unnecessary features doesn't make any sense.

FIA approved, this seat from Sparco is lightweight at only 5.5kg and can fit into narrow cockpits. However this seat is built to one size only, so again, make sure you measure yourself first! There's also a non-slip covering in strategic areas for increased body retention and better comfort. A new lower leg cushion offers additional support whilst medium lumbar support allows for a snug fit around the legs.
How to mount your sim racing seat
There are a few different ways you mount your seat to your rig, can do this and generally it is recommended to buy mounts from the same retailer as the seat to ensure compatibility.
The three most common ways to mount a seat are; side mounts (fixed position), runner kits (adjustable), and base plates (fixed position). Depending on the brand of your seat, you may be able to choose between any of the three choices, or you may be forced to choose one. It'll also be dependent on what type of cockpit you're using, so before you click to buy, make sure you've covered all your bases.
Sparco steel side mounts
These steel side mounts are multi drilled to provide lots of scope for adjustment, allowing you to
position your seat in the most suitable position.

A good thing to note is that these mounts will fit side most mounted seats including those from Sparco, OMP, Cobra and Corbeau.

Cobra universal seat runners

These seat runners from Cobra are universally designed to give shell seats some adjustability.
They sit between the standard steel mount (mentioned above) and will mount on an 8020 style aluminium rig easily.
Related Articles:
By Ryan FinnPosted on
Sours: https://simracingcockpit.com/sim-racing-seat-guide/
iRacing Camera Positioning - Why Its Important to Adjust Your View in Simulations
The big winner in this new virus-laden world? Gaming. There are more people on Xbox Live, more people on the PlayStation Network and more people playing on iRacing than ever before (they're running out of Nintendo Switches, y'all!). So, if you have any of those game consoles, or a high-tech computer rig like our own Robin Warner, you're going to need a cockpit to properly race from.
Trust us: Once you move from a game controller to a steering wheel controller, you'll never go back.
Check out These Video Game Racing Wheels
Thrustmaster T80 Ferrari 488 GTB Edition Racing Wheel for PS4
Thrustmasterwalmart.com
$143.00
SHOP NOW
There are plenty of branded racing wheels, if that's your thing.
Thrustmaster T150 Force Feedback Racing Wheel
Thrustmasterbestbuy.com
$212.99
SHOP NOW
My current wheel is a Thrustmaster TS-XW, but this one is much cheaper.
Logitech G920 Dual-Motor Feedback Driving Force Racing Wheel
Logitech Gbestbuy.com
$249.99
SHOP NOW
A Logitech G27 was my first racing wheel; this one is much newer, and better, than that.
Yes, you can sit in an office chair and attach a wheel to your desk, but the chair moves around—the desk might, too—and your feet will get sore from hovering over the pedals. Same if you're on your couch with a wheel attached to your ottoman. However, if you're reclining in a bucket seat that's rigidly attached to the wheel and pedals, you'll always be in the proper racing position. However, I can't guarantee you'll be in a good finishing position; that's on you.

Both MKI and MKII of my racing cockpits were made from wood, just like Warner's. But mine is easily transportable, without resorting to casters to drag it around the house. Both versions were built the same, but I swapped out MKI's two-by-fours for lighter one-by-ones in the MKII.
My iRacing rig starts with a ladder-like frame. As for length, you'll need to sit down, preferably in a comfortable seat on the ground, and figure out the right position for your legs and hands. You'll need to measure where the pedals will be, and at what angle. You'll also need to figure out where to build the wheel mount, again measuring for a comfortable arm position.
I have three crossbars on my ladder, the middle of which is the front mount for the plywood for the pedals. Note that you can almost do this whole project with wood lying around the average house. If you connect that middle crossbar with one screw on each side, it will pivot the pedals to your comfortable foot position. You can either let it pivot free, and put something under it to make the angle, or nail in a piece of wood to make it permanent. That will make it a little harder to transport, though. Mine pivots free, snapping down during transport.
For the wheel mount, I used two more one-by-ones and a piece of plywood across the top. Your height matters here, and I'd suggest installing your wheel on the board to get an accurate feel for what it will be like when finished. My wheel mount board is flat, but you could angle it with some miter cuts on those one-by-ones. To stop fore and aft movements of the wheel, I used 45-degree-angle pieces that connect to the ladder.
Install everything, wrapping extra power and controller cords out of the way wherever you can. It's easy to get your foot caught while racing, ripping out whatever cord you snagged.
You'll need a seat. I was lucky enough to have a friend who found one out of a Chevy Cavalier. You'll need something to attach the seat to your ladder frame, preferably something removable. I used a tightening/ratchet strap, which can be cinched or loosened depending on the driver. To get the proper seat angle, I use a 2-liter of Pepsi under the front of the seat, but I'm sure there's a more elegant way.
There you go. Set it in front of your TV, hook it up to whatever gaming system you have and you're off to the races.
I've been using MKII for about five years now, but there are a few changes I'll make for MKIII. My gaming wheel is strong and torquey. I need lateral support. Like Warner's setup, I'd put two more 45-degree-angle pieces attached to a relocated first ladder crossbar. I might put two more from the wheel mount piece to the uprights. I'd probably miter-cut those uprights and angle the wheel toward my seat a little more, too. Sometimes knee clearance is an issue and angling the wheel would also solve that problem.
Like to see it in action? Join AW's Twitch feed Fridays at 3:30 p.m. for the Work From Home Cup, where we join our colleagues from Car and Driver and Road & Track to battle it out on Forza Motorsport 7 for bragging rights. R&T's Twitch will have the spectator mode and commentary going, but ours will have me racing from what used to be my man cave, but is now a kids' toy storage cave. Contact me on Twitter if you have any questions about building your rig!
This content is created and maintained by a third party, and imported onto this page to help users provide their email addresses. You may be able to find more information about this and similar content at piano.io
Sours: https://www.autoweek.com/car-life/a32187075/build-an-iracing-cockpit/
Seat setup iracing
But she will never be able to reset what she typed. It's a pity. She got fat superbly, it is a pity that the same cannot be repeated with her.
QUICK TIPS - How to set up Correct Seating Position in a Driving Simulator Cockpit
An acquaintance, an acquaintance, agreed with an acquaintance that she would take the girl with her to the track. This is, of course, not the capital's elite, but in the absence of the queen, they also fuck the janitor. Having put.
You will also be interested:
Alexey lay down in the middle of a wide bed in length and placed his friends on his knees on either side of him so. That the girls leaning forward would just find their faces in front of his dignity, and both of their asses were under his hands. on it from top to bottom, - he commanded at the same time running each in the n zh on two fingers and massaging.
Their pussy from the inside.
934
935
936
937
938