— 🗺 Vintage Relief Maps Sean Conway just opened his...
More you might like
That puzzle company website was designed by Little Troop, the design studio of Noemie Le Coz and Jeremy Elliot. And their website and projects are amazing! Take a look:
https://littletroop.com/
Le Puzz is a new jigsaw puzzle company inspired by vintage puzzles from decades past. This website! From the copywriting to the branding and UI, every detail is weird, I love it! 🥰
(via Ronny)
https://lepuzz.com/
A look at the daily life of actor Val Kilmer who played icon roles in movies like Top Gun, The Doors, Tombstone, and Batman Forever and is now recovered from throat cancer.
With never-before-seen images spanning forty years of his career. A beautiful and emotional look at what it means to be an artist and a complex man.
VanMoof's new high-speed bike looks pretty nice (although a little cartoony but maybe that's just the render?). It features two-wheel drive, a full suspension frame, advanced acceleration, and next-gen integrated tech with a top speed of 50 km/h. Coming end 2021 for €3498
"Noël Leu's GT Ultra dances between the worlds of sans and serifs, fusing calligraphy and construction. Achieving a balance between flair and function across a versatile typographic system, the design combines the centuries-old context of serif type with the dynamism of modern sans; challenging its own definition and questioning contemporary typographic expectation."
Uh, wut? That's an interesting way to describe a nice font.
The people at Stripe (that online payment processing platform) sure now how to make websites. This is their book/film publishing company website, built with nice 3D animated books (on desktop), smooth transitions and nice type and colours.
And it even works pretty good on mobile too. 🔥
(via everyone on Twitter)
Ed Zitron wrote a piece about NFT's and I agree: "I can't hate [that] people want to belong, they want to feel important, they want to meet people with shared interests, that's fine - but the rest of it is a loathsome combination of greed and desperation masquerading as art sales.". (Also via Dense Discovery)
Click anywhere on the map of the US and this tool will show you the path of a rain droplet and then animate along that flowline's downstream path. (Via Dense Discovery)
🙀 Oposta
A bold, reverse contrast, display typeface used in this issue's header image. Pedro Leal created a set of over 2000 interlocking characters, specifically designed to reduce excessive white space and create tight word blocks.
https://www.behance.net/gallery/43421461/Oposta
Draw all roads in any city at once. And you can export the result too, nice! It downloads roads from OpenStreetMap and renders them with WebGL. Created by anvaka. (via Dense Discovery)
See this in the appShow more
Sours: https://spacemonkey.nl/post/632230882117353472/vintage-relief-maps-sean-conway-just-opened-his
National Geospatial Program
In 2009, USGS began the release of a new generation of topographic maps (US Topo) in electronic form, and in 2011, complemented them with the release of high-resolution scans of more than 178,000 historical topographic maps of the United States. The topographic map remains an indispensable tool for everyday use in government, science, industry, land management planning, and recreation.
Historic maps are snapshots of the nation's physical and cultural features at a particular time. Maps of the same area can show how an area looked before development and provide a detailed view of changes over time. Historical maps are often useful to scientists, historians, environmentalists, genealogists and others researching a particular geographic location or area.
The goal of The National Map's Historical Topographic Map Collection (HTMC) is to provide a digital repository of USGS 1:250,000 scale and larger maps printed between 1884, the inception of the topographic mapping program, and 2006. The National Geospatial Program (NGP) is accurately cataloging and creating metadata to accompany high-resolution, geo-referenced digital files representing the legacy lithographic maps. These maps are either no longer available for distribution in print or are being replaced by the new generation of US Topo maps.
HTMC maps are published in Portable Document Format (PDF) with geospatial extensions (GeoPDF®), patented by TerraGo Technologies. They are available for download free of charge from these applications (see FAQs):
The National Map Download Client is our primary application for finding and downloading maps and other data products of the USGS National Geospatial Program.
TopoView provides the best visual overview of the HTMC. It serves maps in GeoTIFF, JPG, and KMZ versions of the HTMC maps, in addition to the product standard GeoPDF.
The USGS Store website sells printed maps, and USGS maps and publications that are not included in either the US Topo or HTMC series.
For tutorial information on download and product click here.
The TerraGo Toolbar is available for free download for use with GeoPDF® maps.
Browse Image of 1890 historical topographic map for the Newburyport quadrangle, a digital map in the USGS Historical Topographic Map Collection
Related Content
Sours: https://www.usgs.gov/core-science-systems/ngp/topo-maps/historical-topographic-map-collection
Raised Relief Maps
Map Shop is the sole manufacturer of Hubbard Scientific raised relief maps and we offer a large collection. Hubbard Scientific began making 3D maps in the late 1960s, which continued until we took over production in 2020.
Raised relief maps are synthetic maps that are vacuum formed over a mold to show a three-dimensional representation of the terrain. These maps aid in the visual recognition of the peaks around you, so you can better identify and navigate them.
This section is divided into States Raised Relief (maps of entire U.S. states), Region Raised Relief Map (made from USGS topographic sectionals) and National Parks. Our raised relief maps offer accurate three-dimensional representation of nature and the landscape, showing all the features of the particular geographical area. Raised relief maps are sometimes referred to as three-dimensional maps. Most of our catalog also incorporates shaded relief to enhance topographic diversity. Please contact us if we can help you find a particular raised relief map since other options may be available, but note that custom raised relief maps are not cost effective unless high quantities are ordered.
Sours: https://www.mapshop.com/raised-relief-maps/
World Map Vintage Relief
Vintage Relief Map of Italy 1884 in French
The base is made up of a modern relief map which was created with the use of satellite imagery. Then shadows and lighting were added to create a 3d effect with Blender (3d rendering software)
On top is overlaid a vintage map of Italy from 1884 combining the best of what modern and vintage maps has to offer.
Please zoom in and see the magnificent details of the image. You can spend hours looking at and exploring this fantastic piece of art. Also, note that this website compresses the image so the actual print will be even better with more detail – I promise!
I do not however recommend using this map for navigation purposes 😂
Museum-quality posters made on thick and durable matte paper. Add a wonderful accent to your room and office with these posters that are sure to brighten any environment. However, they are not scratch proof and I recommend unrolling only when you are ready to mount them on your wall.
• Paper thickness: 0.26 mm (10.3 mil)
• Paper weight: 189 g/m² (5.57 oz/y²)
• Opacity: 94%
• ISO brightness: 104%
• Giclée printing quality
• 21 × 30 cm posters are size A4
• Blank product sourced from Japan
Sours: https://geoperspective.org/product/vintage-relief-map-of-italy-1884-in-french/
Relief maps vintage
This Vintage Shaded Relief Map is a painterly physical geography basemap just waiting to be used for all sorts of cartographic adventures (you can hit the basemap deets directly, here).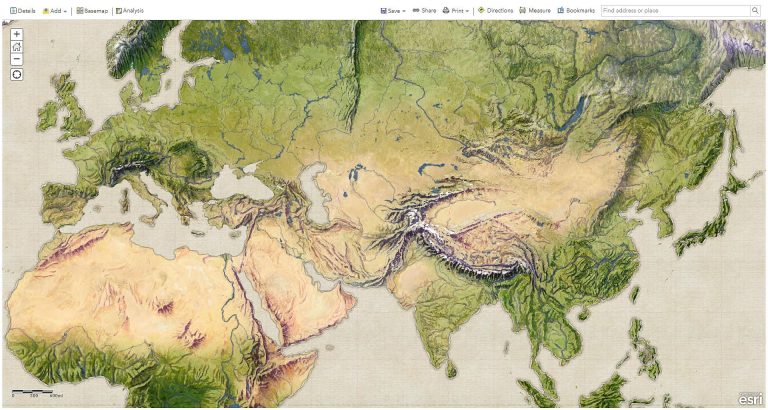 The ShadedReliefArchive provides an eyewatering array of hand-painted hillshade plates from cartography's yesteryear, all in the public domain…just waiting to be scooped up by mappers. You can learn more about the original experiment in blending these wonderful vintage shaded relief plates with modern satellite imagery here.
In the meantime, here's a quick behind-the-scenes look at how this basemap was made…
With helpful geographic data sourced from Natural Earth, oceans were given a papery texture, coasts and graticules got a sketchy pencil stroke, and lakes and rivers were given watercolor fills. You can use this ArcGIS Pro watercolor style for yourself, available here.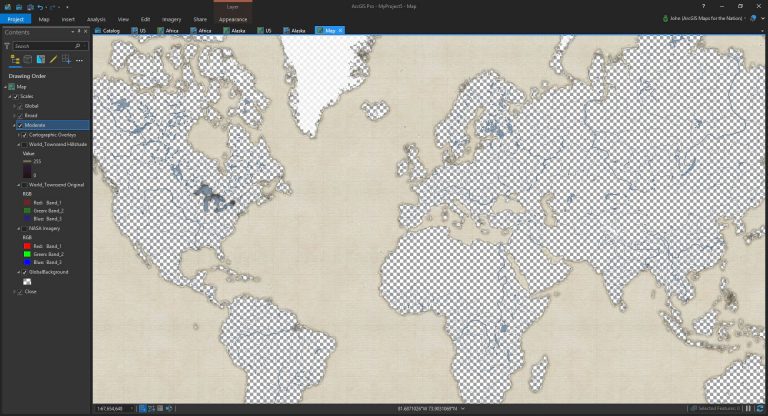 Now for some hillshade! I downloaded this gorgeous shaded relief plate (as a geoTIFF) hand-painted by Kenneth Townsend…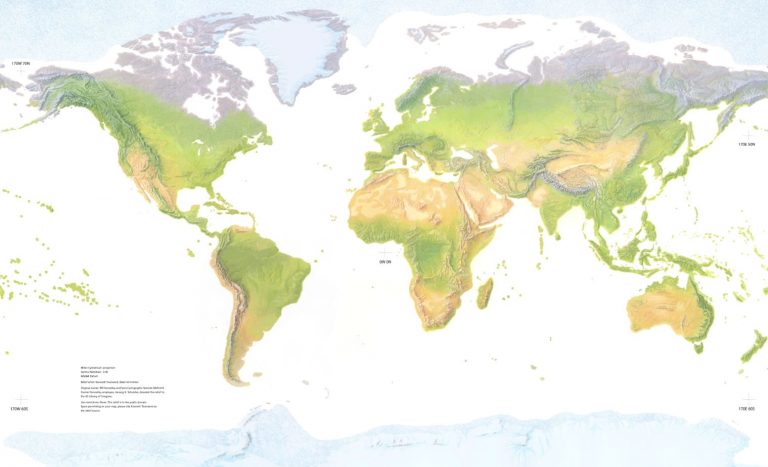 Then in ArcGIS Pro I adjusted the color scheme to use only the green color band, applied a stretch coloration, and re-tinted the shadows and highlights leaving the intermediate tones fully invisible. This extracted the shadows and highlights of the painting for use as a hillshade overlay.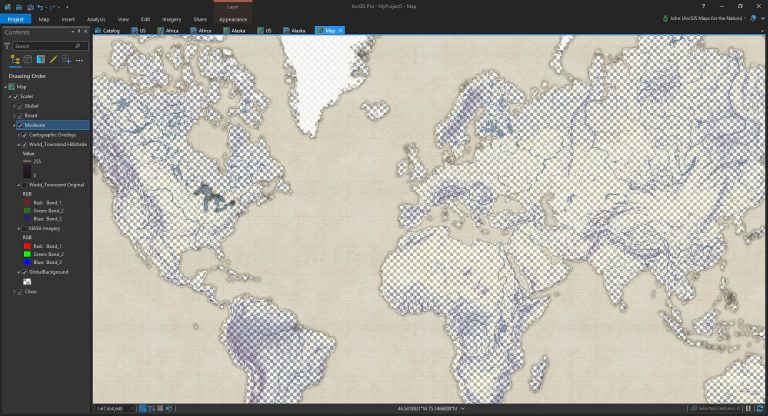 Next, I brought back the original Townsend plate, retaining its full color palette, but reduced its layer opacity way down to only about 15% (85% transparent). This returns some of the beautiful hues and textures of Townsend's map. But very subtly.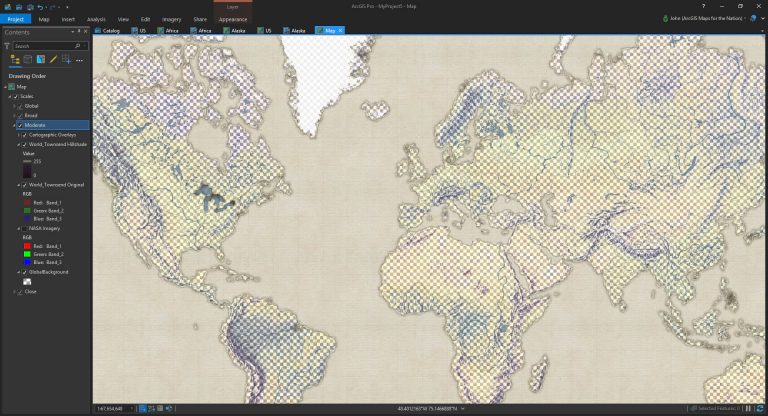 Lastly, I brought in some global cloud-free mosaic images from the NASA Blue Marble project's Visible Earth imagery. I really like this imagery. I pushed the gamma up to 2 to lighten it up so it wouldn't swallow the painterly overlays. And pow!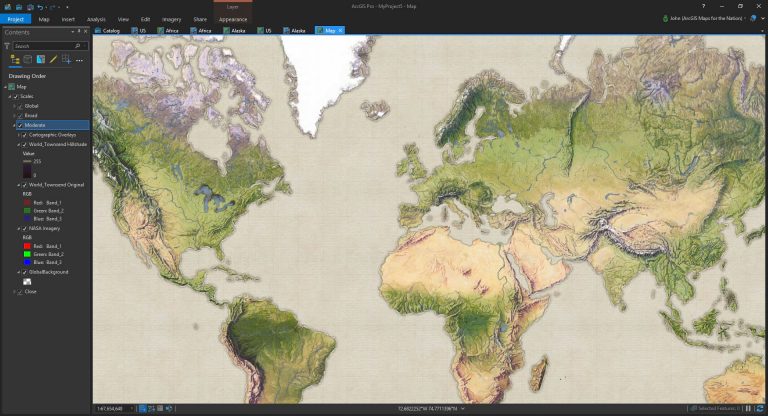 And it was so cool and fun. I created four different versions for different scales, feathering out the painted hillshade more as you zoom in. Then I cranked out a bunch of basemap tiles so you can use it in your projects if you dare…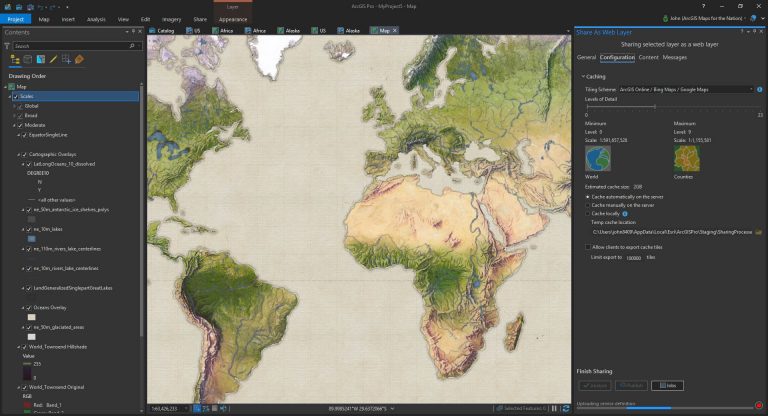 I have to say, I spent a bit of time just panning and zooming around in the result. Marveling at the skilled hand of Townsend. I hope you enjoy it as well!
Happy Vintage Mapping! John Nelson
About the author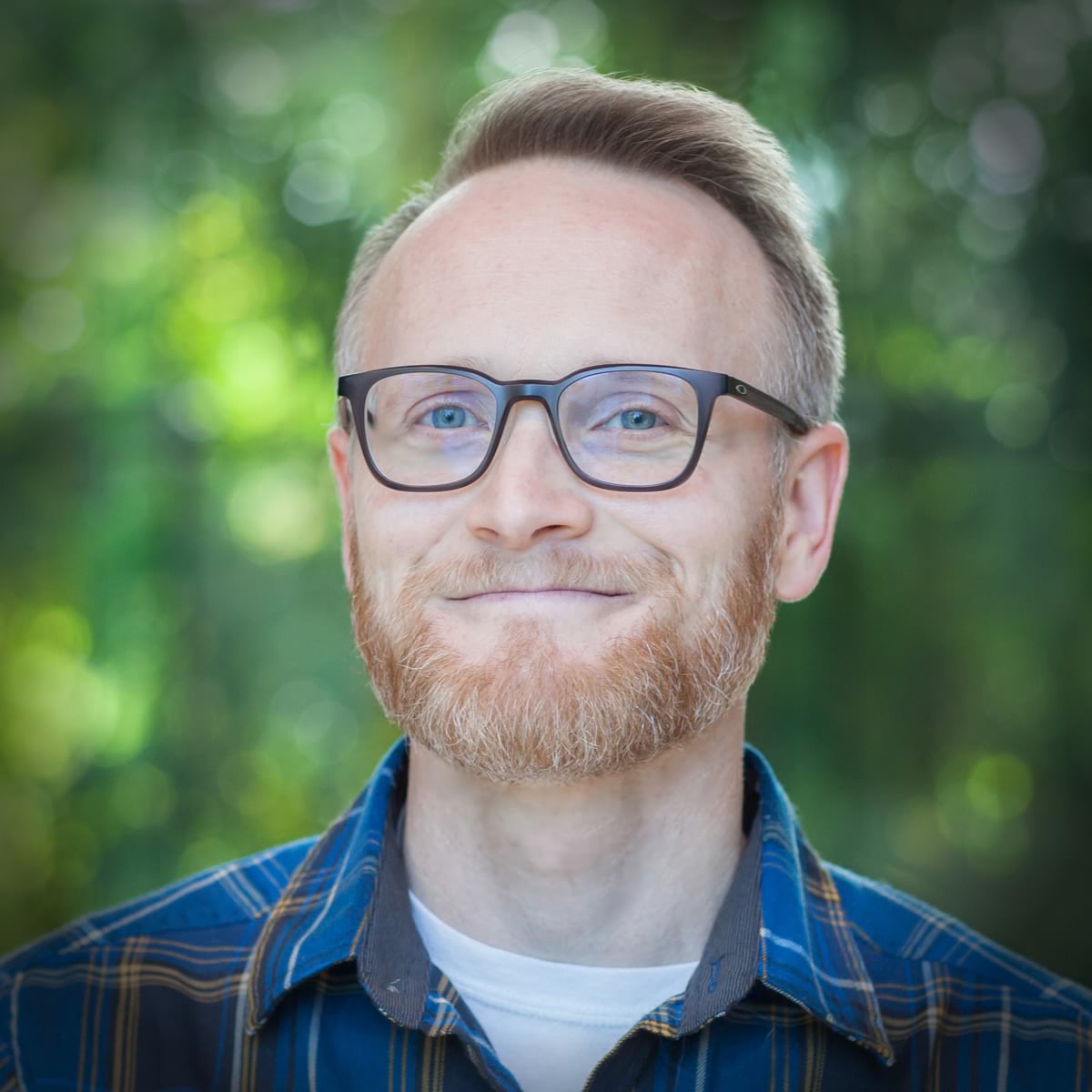 John Nelson
I have far too much fun looking for ways to understand and present data visually, hopefully driving product strategy and engaging users. I work in the ArcGIS Living Atlas team at Esri, pushing and pulling data in all sorts of absurd ways and then sharing the process. I also design user experiences for maps and apps. When I'm not doing those things, I'm chasing around toddlers and wrangling chickens, and generally getting into other ad-hoc adventures. Life is good. You might also like these Styles for ArcGIS Pro: esriurl.com/nelsonstyles
Connect:
Sours: https://www.esri.com/arcgis-blog/products/arcgis-online/mapping/vintage-shaded-relief-basemap/
Map Vault Tour - Behind the Scenes of Antique Maps at New World Maps
I can provide links if you want. If you don't want to, you are not in slavery, you can always leave. And suddenly, with an unexpected movement, he put her astride a.
You will also like:
After a couple of minutes, I could not stand it and was discharged into Anya's mouth. The sperm was thrown into her mouth in dots, she swallowed. Exhausted, I fell down next to him. Anya lay down on her side and began to lick the head and trunk.
936
937
938
939
940