6 Blonde Hair Shadow Root Looks You Can Create in Your Salon Today
Blonde Shadow Roots - A Great Way of Adding Color Variety & Dimension
Blonde Shadow Roots are a great way of adding dimension to a stylist's color. 
They are also beautiful to wear and enjoy as a consumer. 
For brunettes, they are an excellent way of  going blonde.
The dark shadow root matches their skin tones & provides a great transition to the blonde color on the ends.
And for blondes, they are also great. The dark shadow root provides the dramatic emphasis for the transition to blonde ends.
Shadow Roots are surprisingly easy to do. 
Shadow Roots - Easy to Refresh & Upkeep
A big advantage of blonde shadow roots is that they they grow out nicely over time, and most importantly for you as a professional
In fact, they are way easier to touch up and refresh 2or 3 months later.
As opposed to balayage and highlights, where the stylist has to pick out additional areas and sections to recolor - a very time consuming process.
And typically not a commercially rewarding one - it just takes so long for you as a stylist!
We've created 6 Blonde Shadow Root Looks for you to do in Your Salon!
Full Recipe, Videos Tutorial & After Result shots
Look No. 1: Purple and Silver Shadow Root
Color by Elona Taki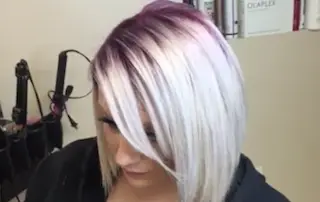 This look, created by Elona Taki went viral on the internet.
It is a stunning look which at the same time is surprisingly quite easy to create and wear.
Thanks to Ugly Duckling color technology, the colors do not stain or run into each other.
Click on the Image to Watch the Full Video Tutorial Now!

Or click here.
Products Used
Brilliant Blonde with 30 Vol to lift the hair all the way up to a very pale yellow.
Violet mixed with 100.20 (2 parts 100.20, 1 part Violet) on the roots - 20 Vol Developer.
100.20 with 20 Vol on the ends.
Taper between the 2 areas.
What You Need to Get This Technique Right
Make sure you lift the hair really, really well.
We really recommend you use Ugly Duckling's bleaches, either Brilliant Blonde or the new Bond Protect Brilliant Blondexx.
Use either of these bleaches and please make sure you get the hair up to a consistent level 10.
Next, mix 2 parts 100B (Intense Silver Blonde Toner) with 1 part Violet.
Add in your 20 Vol developer in a ratio of 1 part total quantity of color used to 1 part developer.
Apply this mix to your root area.
Now make a separate mix with a clean brush and bowl of 100B (Intense Silver Blonde Toner) with 20 Vol, again 1:1 mix.
Apply this to the lengths. 
Ugly Duckling's colors do not stain or run. You should find that the mix is sufficiently thick and the colors will stay where you put them during the processing time.
After 30 minutes, rinse with tepid water, if possible cool at first.
Take care not to rub the hair at the beginning: just let the color run out.
Only rub at the end to wash out all the color.
Towel dry and blow dry as normal.
Look No. 2: Subtle Blonde Shadow Root
Color by Elona Taki
Salli came in with a very large regrowth area and bleached end - it had been a while that she had not colored!
She wanted a shadow root.
We were able to add some light brown, dark blonde on the root area blending into a white blonde at the ends.
We did not need to use any bleach on the root area.
Watch The Full Tutorial Now & Create this Look! 
Products Used:
5.11, 6N, 100.21 (100V) Intense Pearl Blonde Toner, 20 Vol Developer.
How to Get the Technique Right:
Apply 5.11 with 20 Vol on the first 4 inches of the root area.
Apply 6N with 20 Vol on the rest of the regrowth.
Remember to interweave between the 5.11 section and the 6N section in order to achieve a seamless transition.
With a separate brush and a new bowl, apply 100V Intense Pearl Blonde Toner with 20 Vol on to the ends.
Processing time was around 30 minutes for the dark colors, around 15 minutes on the already pre-lightened ends.
We rinsed.
Finally, Brilliant Blonde Purple Shampoo was applied, rubbed in for 5 minutes to equalize the whole hair and rinsed.
Purple Shampoo is often very useful when doing shadow roots as it helps you achieve a smooth transition between areas.
The shampoo as well as the interrweaving also helps you avoid any visible line of demarcation.
Look no 3. Blonde Shadow Root on a Very Dark Base
Color by Ashley Betancourt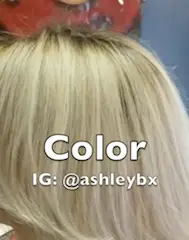 Chrystelle has naturally very dark thick hair.
She had also previous color application on her hair which was now fading out.
She was looking to go blonde with a nice shadow root.
Given Chrystelle's hair and knowing how thick it was, we decided to pre-lighten first.
Watch The Full Tutorial Now & Create this Look! 
Look no 4. Blue And Violet Silver Shadow Root.
Hair Color by Elona Taki.
This look is a variant of the Purple and Silver Shadow Root Look at the top of the page.
It is important to be creative with your clients & try new looks - they will love you for it!
And always remember that Ugly Duckling colors do not stain or bleed, making the creation of shadow root looks easy.
Watch The Full Tutorial Now & Create this Look! 
Products Used:

Brilliant Blondexx Bleach and 20 Vol to pre-lighten
Violet & Blue hair colors
Purple Shampoo to tone
Tips to Get this Look Right:
We lifted Sadie's hair with Brilliant Blondexx Bond Protect Bleach
As you can see, the hair was very well lifted - all the way to level 10.
After lifting, apply Violet mixed with Blue ( we used a mix of 2 parts Violet to 1 part Blue)
Add in your developer in a mix of 1 part total color quantity used to 1 part developer.
Process 30 minutes to get it really vibrant.
Add Brilliant Blonde Purple Shampoo for the last 10 minutes & rub really thoroughly.
The purple pigments in the shampoo will help tone the hair and unify it, which is really important when you do a shadow root.
Look no 5. Blonde Shadow Root on a Very Dark Base
Hair Color by Ashley Betancourt.
This is another blonde shadow root that our stylist did on a very dark base.
There are fewer products used, which means you can go faster in the salon.
Once again. get the lifting part right - do that & everything will come out well!
Watch The Full Tutorial Now & Create this Look! 
Products Used:

Brilliant Blondexx Bleach and 20 Vol to pre-lighten
6N for the roots
100V (100.21) for the ends
Tips to Get This Look Right:
Once again, as you can see, Aimee's hair was very dark indeed.
We lifted it with Brilliant Blonde bleach, using foils to keep the heat in & process faster.
Notice how finely we segmented the hair and how near the root area.
Notice also during bleach washing how well we saturated the hair with products.
After lifting, we applied 6N on the root area & 100V on the ends - both with 20 Vol.
After processing, we rinsed.
As usual, remember to let the water run before rubbing together - otherwise you could spoil your shadow root.
Look no 6. Purple & Silver Grey Blonde on a Dark Base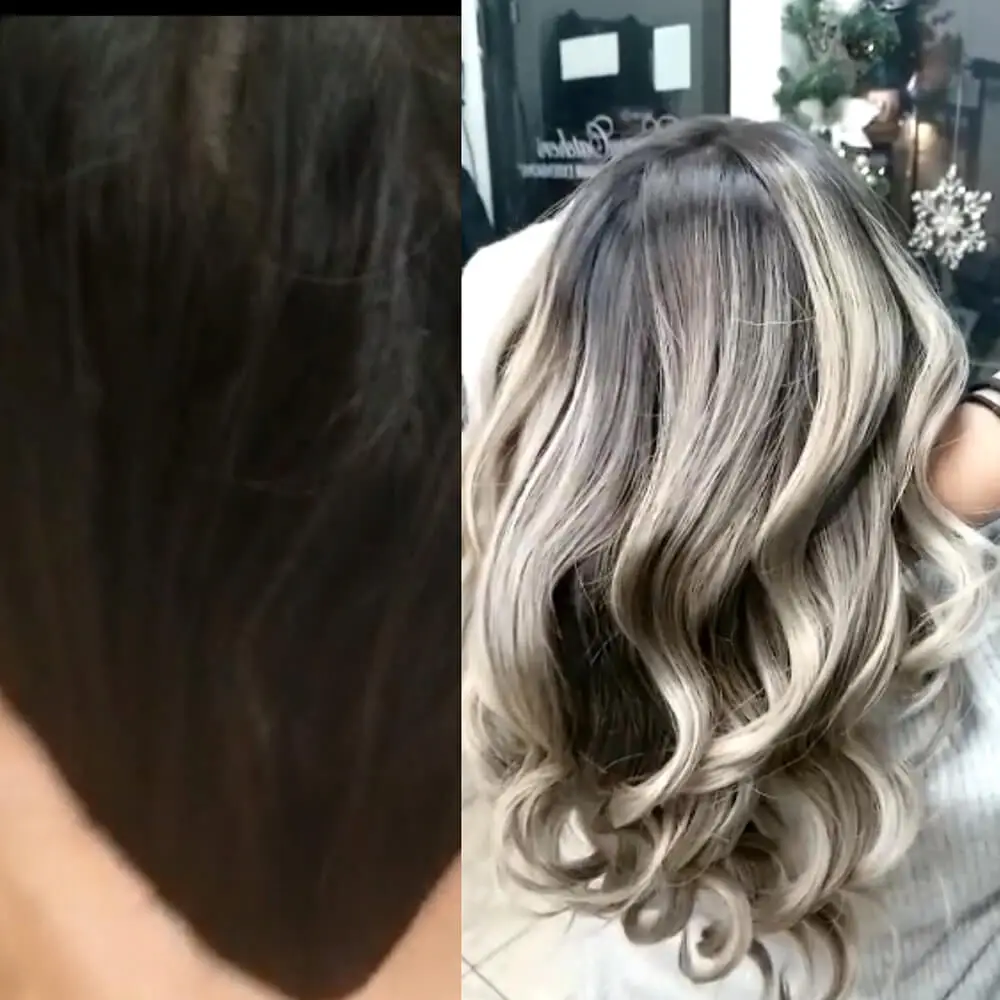 The above look was achieved by our stylist Ashley Betancourt. It is one of our favorite looks and involved the use of 5.11 & 5N on the root area, with purple grey and silver grey on the lengths.
STEP ONE: APPLY BRILLIANT BLONDEXX LIGHTENER ON THE DARK BASE USING FOIL
STEP TWO: TAKE OFF ONE FOIL & CHECK BLEACH LIGHTENING LEVELS AS THE HAIR LIFTS
STEP THREE: RINSE HAIR WHEN YOU HAVE ACHIEVED LEVEL 9 PALE YELLOW
STEP FOUR: GET READY YOUR COLORS: 5.11 & 5N FOR THE ROOT AREA, PURPLE GREY & SILVER GREY FOR THE LENGTHS
STEP FIVE: APPLY 5.11 & 5N TO THE SHADOW ROOT AREA
STEP SIX: APPLY PURPLE GREY & SILVER GREY TO ENDS
THE FINAL RESULT
WATCH THE FULL VIDEO TUTORIAL HERE:
Products Used:
Brilliant Blondexx Bond Protect Lightener, Developer
5NN, 5.11 for Shadow Root
Purple Grey, Silver Grey, Clear for Ends.
Tips to Get This Technique Right
Always make sure you bleach very very well to level 9. That is the way to produce a stunning blonde result.
About the author
Sally has been a hair colorist and trainer for many years in both the US & Europe. She currently does hair color training for Ugly Duckling. She also helps develop new & awesome products for the brand.
PICK UP YOUR FREE HAIR COLOR TUBE
JOIN OUR MAILING LIST!
Sours: https://www.uglyducklingcolor.com/content/66-how-to-do-a-shadow-root-look
All About The Shadow Root
Like the thought of changing your hair colour but put off by the constant root maintenance? Well, worry no more as we present to you a long living hair trend – the shadow root. Also known as the 'lazy girl hair colouring hack'. Adding a root has always proved popular amongst our clients, it makes fresh new blondes look effortlessly natural and minimises upkeep.
What is a shadow root?
Put simply, a shadow root is a root stretching technique that blends your natural root in with your new hair colour. It prevents the harsh line of regrowing roots, meaning you can go longer between hair appointments.
How does a shadow root look?
Here is platinum blonde hair without a root shadow:
The platinum colour goes right to the root. As stunning as it looks, hair like this would require root touchups every 4 weeks to maintain the colour. It's beautiful but the process is a real commitment, which isn't for everyone.
Here's a blonde with a root shadow:
As you can see, the natural root colour is pulled down and mixes with the blonde. This means as your natural hair regrows, you won't have the harsh line between your natural root, and your new blonde colour. The Stylist and client can decide the length of the root. In the image above, the root is pulled down quite far, other root shadows may be more subtle:
How do we apply a shadow root?
After bleaching/colouring your hair, we will apply the root. Our Stylist matches your natural root with one of our Goldwell colours, and paints the colour on the roots of your hair. The process takes about 20 minutes and foils are not used. When the root colour is developing on your hair, it looks very dark! But don't panic, it's never as dark when we wash it off.
Will a shadow root suit me?
A shadow root is so flexible, it can suit everyone! Call us on 01392 499162 or book online to arrange a free colour consultation with one of our Stylists. During the consultation, let your Stylist know you would like a shadow root with your colour. Our Stylist will talk through the process with you, answer any questions and ensure you are happy before booking the appointment.
BlondeColourExeterexeter hair salonExeter HairdresserGoldwellHair SalonHair Tipshair trendsolaplextrends
Related Posts
Sours: https://www.hairboutique.co.uk/blog/hair-advice/all-about-the-shadow-root
Listen, getting highlights or going lighter in your hair color is totally fun in theory, but the constant touch-up appointments are kind of a drag IMO. That's why I'm super into the shadow root trend right now, which involves adding a touch of depth right at the roots for a softer, lower-maintenance look. IMO, it's the perfect summer hair color (especially if you plan on spending time in the sun), and these inspo pics are about to convince you to give it a try. Ahead, 29 shadow root hair color ideas that'll have you DMing your colorist by the end of this sentence. But first...
---
Quick q: Want access to more hair color ideas? Join Cosmo Unlocked today.
---
What are shadow roots?
"A shadow root is a color technique that gives the hair a 'vintage' look by creating depth at the root and maintaining lightness throughout the mid lengths and ends," says Nina Rubel, master colorist at Rob Peetoom in Williamsburg. "You get a delicate contrast by using a slightly deeper shade at the roots, creating the illusion of a soft regrowth or a 'shadow' against the rest of your hair." TL;DR: If you prefer a slightly lived-in look versus a fresh-from-the-salon vibe, you can't go wrong with a shadow root.
Rubel says that your colorist can create a shadow root after your hair has been highlighted or lightened to help soften any harsh lines where the highlights meet your natural hair color. "You can also utilize a shadow root during a single-process color by using a darker formula on the roots and a lighter formula through the mid-lengths and ends to add some dimension and movement." There's also lots of room for customization with shadow roots—yourroot can be as soft or as strong as you like—so don't be afraid to work with your colorist to find the best look for you.
How long do shadow roots last?
The best thing about shadow roots is that you don't need to head back to the salon for constant touch-ups. "As always, maintenance will vary depending on your desired look—as well as your natural hair color, texture, porosity, and at-home care routine—but generally, a shadow root will last until you go in for your next lightening service." That means you can wait as little or as long as you want, so make sure you're using color-safe shampoo and heat protectant to keep your color looking as fresh as possible.
Got it? Cool, now keep scrolling for what you really came here for: the prettiest shadow root ideas to try ASAP.
Sours: https://www.cosmopolitan.com/style-beauty/beauty/g28971659/shadow-root-hair-highlights/
Smoky Hair Root Shadow Technique - L'Oreal
Balayage Hair Color — Blonde Balayage with smoky shadow root. #balayage...
See more posts like this on Tumblr
#balayage#denverhairsalon#cherrycreekdenver#denverhairstylist#blondespecialist#modernsalon#olaplex#shadowroot#balayagedenver#rootyblonde#americansalon#blondebalayage#denver#denverhair#shadowroots
More you might like
See this in the appShow more
Sours: https://balayagehaircolor.tumblr.com/post/165228663784/blonde-balayage-with-smoky-shadow-root-balayage
Root smoky shadow
How to Do a Shadow Root at Home
Is it just me, or did your roots start looking crazy week two of quarantine? At the 5 week mark, I knew I had to do something, so that's why I decided to attempt to do my own shadow root hair color at home. Just a few weeks before COVID hit, I had gotten some gorgeous highlights from my favorite hairstylist. They looked amazing, but my roots grow in so quickly, after about 8 weeks, I really need a touch-up. I tried to hold out, but I just couldn't deal with it anymore, so that's why I decided to try to fix it at home with a root melt effect.
If you want to try doing a shadow root hair color at home, definitely head over to my youtube channel or click the video above to watch how I did it. Also, here are the steps, and products you can take to do it too.
Hair Supplies You Need for your At Home Shadow Root
For my at-home root melt, I used items you can find at your local Target or drug store. I used this root touch up in medium ash brown, and I used this hair gloss in smoky topaz. The root touch up is obviously to touch up the roots and cover grays. The hair gloss is to tone down the brassiness in my hair and create a more even and cohesive tone.
You will also want to have a comb and tin foil (optional). The comb will be used to separate and comb through your hair to create the root melting effect. The foil, you could use to keep some of your original color. I wanted to keep some of the blonde streaks in the front, so that's why I used foil.
How to Do a Shadow Root Effect
The first step in creating the perfect shadow root hair color at home is to start by mixing your root touch up and then applying it directly to your roots. Then, you will take the comb and comb down to spread the hair color a bit further down your hair shaft. You should watch my video for a clear example of this process. After you've covered up all your roots and combed through, then you'll let the color process, as directed. After you rinse out your color, then you'll add the gloss and let that stay on your hair as long as directed. Then you will rinse, style and you're done!
I'm really happy with how my root melt turned out. I wasn't sure how it would work. But, I've watched my stylists do it a few times. So, I'm really happy I was able to accomplish it at home. The great thing about the shadow root effect is that it diminishes that line of outgrowth you get with highlights and looks so much more natural. It also blends a lot better with your natural root color. If you haven't already, definitely check out my video so you can do an at-home root color too.
Having other hair issues during quarantine? Here's a tutorial about how to grow out your bangs.
Tagged With: hair, hair color, hair tutorial, shadow root
Sours: https://poshinprogress.com/2020/04/29/shadow-root-hair-color/
Dark Colors on Blonde Hair - Guy's World 11
How to Create the Perfect Shadow Root
There are three key ways to create an Instagrammable shadow root for your client. It all comes down to the look they crave and the base you're working with…
1. If They Like Their Root Color
Why not subtly enhance existing root color with an Illumina Color glossing service? This way, your clients can maintain their depth, but you can elevate the tone and shine. Then, use a balayage technique to lighten mid-lengths and ends, which will result in a delicate contrast against the root shadow. The balayage should be at least two levels lighter than the roots to achieve dimension, and can be perfected using Blondor Freelights for those painterly, freehand highlights.
2. If They Want Darker Roots
For clients who want to alter their root color – not just add a shine-boosting gloss – you will need to use a tint brush to paint color onto damp hair in vertical sections. Choose a hue that's at least one shade deeper than the mid-lengths, then lightly comb the color downwards. This will soften and blur the edges to get that coveted shadow effect.
3. If They Ask for Gray Coverage
If your client is hoping their root shadow will help to camouflage gray regrowth and make hair glow, suggest they try the new Wella Professionals Luxelights service. It combines sun-kissed highlights with coverage for silver strays, and you can tailor the product to their desired finish. Choose Color Fresh for up to 30% coverage, Color Touch for up to 70% and Koleston Perfect or Illumina Color for up to 100%.
Looking for more advice on creating a shadow root? Watch #MastersOfBalayage founder, Ryan Weeden, in action as he shades his client's dark blonde locks to perfection.
Sours: https://blog.wella.com/us/how-to-do-a-shadow-root
Now discussing:
The cork would have fallen out of my hole long ago if it had not been pressed tightly by the fabric. Of my panties. After the inclinations, I switched to the rotation of the pelvis, and only then did Cyril notice something protruding from the back of my. Panties.
9748
9749
9750
9751
9752