Introducing the Alienware X51
While Alienware isn't openly inviting comparisons to Microsoft's Xbox 360 with their brand new X51 gaming desktop, it's hard not to see the resemblance, at least in form factor. But where Microsoft's aging console continues trudging away with generations old hardware, Alienware has produced an authentic Windows 7 gaming PC in a shell roughly the same size. Not just that, but they're introducing it at one of the lowest prices we've ever seen for what's ordinarily a very premium brand. Was Alienware able to cram a fully-powered machine in this tiny chassis, or were too many sacrifices made?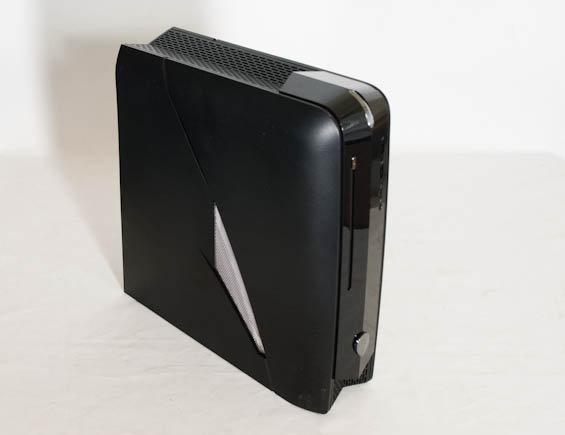 The X51 is basically the size of an Xbox 360, but the insides are pure PC: Alienware employs a Mini-ITX motherboard, desktop-level Sandy Bridge Intel processors, and a full-sized double-slot graphics card (rotated ninety degrees and connected via a riser card to the PCIe 2.1 x16 slot).
The component options available are listed below, and we've bolded the items from our review unit where applicable. Alienware currently has four models listed, with slightly varying specs. Our unit is the $949 model with an upgrade to 8GB RAM, though it's of course possible to upgrade other areas on your own.
Alienware X51 Specifications
Chassis
Custom Alienware X51
Processor
Intel i7-2600
(4x3.4GHz, Hyper-Threading, Turbo to 3.8GHz, 32nm, 8MB L3, 95W)

Intel Core i5-2320
(4x3GHz, No Hyper-Threading, Turbo to 3.3GHz, 32nm, 6MB L3, 95W)

Intel i3-2120
(2x3.3GHz, Hyper-Threading, No Turbo, 32nm, 3MB L3, 65W)
Motherboard
Custom H61 Chipset Board
Memory
2x4GB Hynix DDR3-1333
2x2GB DDR3-1333
Graphics
NVIDIA GeForce GTX 555 1GB GDDR5 (OEM)
(288 CUDA Cores, 736/1472/3828MHz core/shaders/RAM, 192-bit memory bus)

NVIDIA GeForce GT 545 1GB GDDR5 (OEM)
(144 CUDA Cores, 870/1740/3996MHz core/shaders/RAM, 128-bit memory bus)

Intel HD 2000 IGP
(6 EUs, 1100MHz core clock)
Hard Drive(s)
Seagate Barracuda 7200.12 1TB 7200RPM SATA 6Gbps HDD
Optical Drive(s)
HL-DT-ST DVD+/-RW GA31N slot-loading drive
Blu-ray/DVDRW Combo slot-loading drive
Power Supply
330W Custom
240W Custom
Networking
Dell Wireless 1502 802.11b/g/n (150Mbps 2.4GHz)
Realtek PCIe Gigabit Ethernet
Audio
Realtek ALC892
Speaker, mic/line-in, surround jacks, optical out and S/PDIF for 7.1 sound
Front Side
Optical drive
2x USB 2.0
Headphone and mic jacks
Top
-
Back Side
Optical and S/PDIF
HDMI (IGP)
4x USB 2.0
Ethernet
2x USB 3.0
Speaker, mic/line-in, surround jacks
2x DVI-D (GeForce)
1x Mini-HDMI (GeForce)
Operating System
Windows 7 Home Premium 64-bit SP1
Dimensions
12.54"-13.5" (back-front) x 12.52" x 3.74"
(318.5-343mm x 318mm x 95mm)
Weight
12.1 lbs. (5.49kg)
Extras
External PSU
Integrated 802.11b/g/n
User-configurable external lighting
NVIDIA Optimus
Warranty
1-year parts, labor, and support
Pricing
Starts at $699
Review system configured at $999
Alienware keeps the configuration options for the X51 pretty lean, but they benefit tremendously from being a subdivision of Dell as opposed to a standalone boutique. The X51 enjoys a custom chassis design just like all of Alienware's hardware does, but they also have access to OEM only graphics hardware.
The entry level system offers Intel's Core i3-2120 dual-core processor, certainly plenty for gaming, and pairs it up with NVIDIA's GeForce GT 545. Our review unit steps each of these up to the next available part: the Intel Core i5-2320 and GeForce GTX 555. Unfortunately the X51 maxes out at the GTX 555 while the processor can be upgraded to a Core i7-2600 for users who want an extra 400MHz plus Hyper-Threading on the CPU.
The GT 545 and GTX 555 are odd birds in and of themselves, but the graphics card in the X51 is user upgradeable. So why these parts? The GT 545 is a touch above entry-level; it's a GDDR5-equipped part (OEM only as opposed to the DDR3-equipped retail parts) and sports a cut-down GF116 GPU, with 144 CUDA cores and a 128-bit memory bus hooked up to 1GB of GDDR5. The chip is clocked at 870MHz (putting the shaders at 1.7GHz) and the memory is clocked at an effective 4GHz.
More compelling is the GeForce GTX 555 that our review unit is equipped with. Due to limitations on the X51's external power supply, the X51 can't handle graphics cards rated for more than 150 watts. Thankfully the GTX 555 maximizes that power envelope; it employs a trimmed-down GF114 GPU with 288 CUDA cores enabled along with a 192-bit memory bus and 1GB of GDDR5. That's an asymmetrical memory configuration just like the desktop GTX 550 Ti has but on different silicon. The GPU itself is clocked at 736MHz (for 1472MHz on the shaders) and the memory runs at an effective 3.8GHz. Note also that models that ship with the upgraded GTX 555 GPU get the larger 330W external power brick, so if you're thinking about upgrading to a different GPU in the future you will most definitely want to go with the higher spec system.
The icing on the graphics cake is that the X51 is the first instance of desktop Optimus we've seen. That's right: you can actually plug your monitor into the IGP's HDMI port and the tower will power down the GPU when it's not in use. This implementation functions just like the notebook version does, and it's a welcome addition.
Where I think Alienware does lose a point is in the storage configuration. Understanding internal real estate is at a premium, the single 3.5" drive bay still hurts a little at a time when the ideal system configuration is an SSD for a system drive and a mechanical disk for storage. The 1TB Seagate Barracuda 7200.12 included isn't bad, but it will hurt the X51 in PCMark testing and detracts a little from the overall user experience. Given the sloped shape of the chassis, however, we would have preferred a modified design with space for a 2.5" SSD/HDD at the back. That said, the X51's motherboard has enough SATA ports for you to remove the 3.5" drive and replace it with a pair of 2.5" drives, so the enterprising end user can opt to install an SSD and notebook hard drive.
Finally, the X51 supports USB 3.0 on the back, has a slot-loading optical drive that can be upgraded to a Blu-ray reader, and has wireless networking included on a user-replaceable mini-PCIe card that's mounted to the motherboard.
The final price of $1000 for our review unit gets you a very interesting piece of hardware, though obviously there's a price premium for going with the custom Mini-ITX chassis, PSU, etc. You could put together a similar system in terms of performance with a Micro-ATX case/motherboard for under $800 quite easily, but if you want to go the Mini-ITX route things become a bit more difficult--both in terms of finding hardware that will all fit and work together well, plus the assembly process in ITX chassis generally requires more time and effort than mATX. Overall then, the price and specs are very reasonable, so let's see what this black beauty can do on the race track.
AT Deals: Dell S2522HG 25-inch 240Hz IPS Gaming Monitor Drops to $225
TSMC to Build Japan's Most Advanced Semiconductor FabG.Skill Unveils Premium Trident Z5 and Z5 RGB DDR5 Memory, Up To DDR5-6400 CL36
TWEETS
IanCutress: @TechDeals_16 I was busy spending a couple of hours at a day spa, enjoying the baths and having a good massage. Fol… https://t.co/la61yKbAiy
IanCutress: @workingjubilee @_justanotherdot @intel Devs writing the guide were doing so based on old info from the engineers.
IanCutress: Why does it say Intel Confidential? Are all engineering samples the same? @TechTechPotato 💻💻🥔 explains the differen… https://t.co/i6W15lExTA
IanCutress: @scottmichaud I'm the same with Dropbox
IanCutress: @DanielMDAx Die area is 5% ish.
andreif7: @caribbeanxblue @NachxAschura @shameermulji @reneritchie On the shoulders of the industry pushing that forwards? Th… https://t.co/ah8Ail4p0C
andreif7: @caribbeanxblue @NachxAschura @shameermulji @reneritchie https://t.co/z9SOXLLtEf Try again.
andreif7: @caribbeanxblue @NachxAschura @shameermulji @reneritchie Such as?
RyanSmithAT: @Like_wiser @anandtech I'm trying to avoid the word "cheap". Because even at $329, these cards aren't cheap. And po… https://t.co/JC7ugAO4dc
RyanSmithAT: While one more card won't fix the current video card market, the RX 6600 does have one notable thing going for it.… https://t.co/6li1lpPyCn
andreif7: @Eisenkocher @mitchellmllnnl @reneritchie > Outer screen seems to keep variable refresh rate in low ambient light.… https://t.co/m9VNOC4PGP
andreif7: @shameermulji @reneritchie I disrespectfully say that's just stupid. If you don't like a feature, don't use it. Giv… https://t.co/HcCs6ISsgr
RyanSmithAT: @JumboShrimp787 @BrettHowse Ahh, okay, you're talking about Windows 11. Since today's piece was about the Surface h… https://t.co/bSPOukjtox
RyanSmithAT: @JumboShrimp787 @BrettHowse Just for future reference, what else would you have liked to see?
RyanSmithAT: If you only read one (more) thing today, read this. @andreif7 has once again knocked it out of the park with his di… https://t.co/hr3PPXwCJT
ganeshts: A Thunderbolt 4 / USB4 hub from @plugable at a very attractive price point (considering the USBC-HDMI value add). A… https://t.co/DiJZS8MmF9
ganeshts: @JamesDSneed @IanCutress Yes, NAND has the ability to store dynamic sector remap information - this is not only for… https://t.co/J0NYC9oCZk
ganeshts: @AG_1138 Micron has a history of doing these silent changes. The P2's silent move from TLC to QLC resulted in worse… https://t.co/UfmTilvFi1
ganeshts: @ricswi Looks like that requirement is Home-only. Other editions will still allow local accounts. I can't remember… https://t.co/qOvPnduAuY
ganeshts: @Laughing_Man @hnpn914 Benson, is there an update planned for the Twinkie PD to support EPR? I still use the USBC-T… https://t.co/D6g5nmQvB5
Follow @ANANDTECH
Sours: https://www.anandtech.com/show/5543/alienware-x51-the-xbox-with-teeth
Alienware X51 Review
Gaming desktops are starting to look more and more like game consoles, but Alienware's X51 might just be the most living-room-ready out of the whole bunch. This PC ($699 starting, $1,099 as reviewed) is small and stylish, but with a 4th-gen Core i5 processor and a GeForce GTX 960 graphics card, doesn't skimp on performance, either. If you want to game in 4K, this isn't the desktop for you, but overall the X51 is an awesome value.


Design
You'd be forgiven for mistaking the Alienware X51 for a gaming console at first glance. This sexy mini-tower is built for the living room, with a compact and curvy design that's complemented by some signature Alienware flourishes.
When stood vertically, the X51 has a glossy front panel that provides access to a disc drive and essential ports, as well as vented, attractively angular panels on the top and bottom. The desktop's left and right side panels both sport sharp LED triangles that can light up in various colors, with some mysterious alien scripture adorning the right side.
The cherry on top is the company's signature alien head logo on the front of the machine, which also can change colors. If you want to lay the PC horizontally and slide it into your entertainment center, you can tilt the little guy's noggin 90 degrees to have it match that orientation.
MORE: The Best Gaming Desktops Available Now
Measuring 13.5 x 12.5 x 3.7 inches, the X51 isn't quite as tiny as the adorable Alienware Alpha (7.8 x 7.8 x 2.2 inches). However, it has a smaller footprint than the Digital Storm Bolt II (16.4 x 14.1 x 4.4 inches) and is similar in size compared with the Falcon Northwest Tiki (13.0 x 13.6 x 4 inches).
Ports
The X51's front panel has everything you need to plug and play, with two SuperSpeed USB 3.0 ports, a dual-layer DVD drive and headphone and microphone jacks.
For everything else, you can look to the machine's rear, where you'll find an additional four SuperSpeed USB 3.0 ports, two high-speed USB 3.0 ports, an Ethernet port and an HDMI connection. For your audio needs, there are both optical and coaxial S/PDIF ports, side and rear surround sound ports, a subwoofer port and connections for a microphone and line-in and line-out. You can also access the ports of whatever graphics card is in the machine, which, in the case of our GTX 960, consists of three HDMI ports and a DisplayPort.
While the X51 is ideal for those who want to play PC games hassle-free, you still have the option to swap out the machine's GPU, processor and RAM in order to keep it fresh over time.
Gaming and Graphics
Armed with an Nvidia GeForce GTX 960 GPU, our Alienware X51 allowed me to smoothly slice my way through Middle-earth: Shadow of Mordor. The game ran at a silky 60 frames per second at 1080p with graphics on auto, making my acrobatic ledge-hops and frequent orc executions look extra swift.
The game remained playable when I cranked the resolution to 2560 x 1440 and the graphics level to Ultra, bouncing anywhere from 35 to 45 fps based on the intensity of the action. The X51 finally gave out when I pushed the game to 4K at Ultra settings, resulting in a hilarious yet unplayable 10 fps slideshow.
The X51 made quick work of our BioShock Infinite benchmark, tearing through the game at 163 fps on low settings at 1080p and maintaining a smooth 69 fps on high settings.
MORE: The All-in-One PCs to Take Home Today

Alienware's compact PC stayed strong throughout the more demanding Metro: Last Light, with 1080p framerates of 80 and 52 at low and high settings, respectively.
The X51 even handled Metro at 4K, running the game at 39 fps on low settings, but chugged to 8 fps with graphics on high.
As far as synthetic benchmarks go, the X51 scored a 6,049 on the 3DMark Fire Strike test. This tops our 4,998 desktop average.
Performance
Packing a 3.2-GHz Intel Core i5-4460 processor with 8GB of RAM, the X51 has plenty of multitasking muscle for when you need a break from gaming. I used the PC to stream video from Twitch and Netflix simultaneously while installing a game, browsing a dozen Chrome tabs and running a full system scan, and didn't experience any hiccups throughout.
The X51 scored a 10,543 on the Geekbench 3 general performance test, surpassing our 9,623 desktop average.
Alienware's PC took 4 minutes and 4 seconds to match 20,000 names to their addresses on our spreadsheet test, outpacing our 6:13 category average.
The X51's 1TB, 7,200-rpm hard drive copied 4.97GB of mixed media in 80 seconds, for a transfer rate of 62.12 MBps. This time around, the PC lagged behind our 109.5 MBps average.
Mouse and Keyboard
Unlike many of the gaming desktops we've reviewed, our Alienware X51 shipped with its own mouse and keyboard. Both are fairly standard-issue -- the keyboard packs a full numpad, as well as a handy row of dedicated function buttons for changing volume, pausing and playing music and pulling up your email.
I found the keys to be comfortable enough to type a few paragraphs, but too mushy to rely on in the long run. Even so, I blazed through the Key Hero Typing Test at 103.5 words per minute with 99 percent accuracy, besting my 75 wpm norm.
MORE: Our Favorite Gaming Keyboards
The included mouse has a glossy plastic finish that feels a bit cheap, but the edges are nicely contoured for your thumb and pinky. You're better off sticking with a dedicated gaming keyboard and gaming mouse if you have them handy, but I appreciate Alienware including everything you need to get started.
Configurations
The Alienware X51 starts at $699 for gamers on a budget, offering a 4th-Gen Intel Core i3 processor, 6GB of RAM, a 1TB, 7,200-rpm SATA drive and an Nvidia GeForce GTX 745 graphics card. Stepping up to the $899 configuration gets you an Intel Core i5 CPU, 8GB of RAM and a GTX 750Ti GPU, with the same storage as the starting unit.
A $1,249 version of the X51 packs a Core i7 processor, 16GB of RAM, 2TB of storage and an AMD Radeon R9 370 graphics card, while the top-of-the-line $1,599 unit packs a GeForce GTX 960 graphics card and a 1TB SATA drive combined with a 256GB SSD, with the same CPU and RAM as the previous model.
Any of the above configs can be customized with different parts -- for example, our $1,099 review unit packs the Core i5 CPU, 8GB of RAM and 1TB hard drive of the base $899 config, but with a beefier GeForce GTX 960 graphics card.
While the X51 packs lots of power into its humble frame, there are a few limitations that come with its budget-friendly design. You won't be putting more than one graphics card in this machine, so don't expect to build the ultimate multi-card, multi-monitor 4K setup with it. It's also not built for use with Nvidia's highest-end GPUs, such as the GTX 980 and GTX Titan X.
Software and Personalization
The X51 keeps it clean on the software front, offering a handful of programs that let you customize how the machine looks and performs.
You can do most of your tweaking in the Alienware Command Center, which includes three distinct dashboards for switching up the PC's aesthetics and performance.
The AlienFX lets you customize the colors of the X51's front- and side-facing lights, whether you'd like to choose a preset theme or mix and match among the 20 available colors. Select titles (such as Middle-earth: Shadow of Mordor) have support for AlienFX, which allows the X51's lights to change colors based on what's happening in-game.
AlienFusion helps you adjust the X51's performance to your needs, with various profiles that let you find the right balance between CPU speed and power consumption. You can dictate how long the PC takes to automatically go to sleep, map the power button to various functions, or even get down to the nitty-gritty with advanced settings, such as when the hard disk should be turned off.
Rounding out the Command Center is AlienAdrenaline, which lets you program a chain-reaction of events that will happen every time you launch a game. For example, you can make a specific profile for Batman: Arkham Knight that launches your preferred chat client, streaming application and any Web page of your choosing every time you fire up the game.
Finally, the Alienware Audio app lets you create the perfect audio mix for your games. The app automatically detects any speaker or headphone plugged into the X51, and allows you to tweak levels such as bass, treble and dialogue and save those levels as custom presets.
Bottom Line
For those seeking a hassle-free way to play PC games either at your desk or in your living room, the Alienware X51 delivers. The machine's compact and stylish design makes an excellent complement to any entertainment center, and with support for up to a 4th-gen Core i7 processor and GeForce GTX 960 graphics, offers plenty of power for playing mainstream games.
If you're especially strapped for space (and cash) and can sacrifice a bit of power, Alienware's miniature Alpha console offers impressive performance, starting at just $499. On the flip side, pricier small PCs such as the Digital Storm Bolt II ($1,957 starting) and the Falcon Northwest Tiki ($1,856 starting) can be maxed out with stronger graphics cards. Overall, though, you'd be hard-pressed to find a better balance of convenience, performance and affordability than what the Alienware X51 delivers.
Mike Andronico is Senior Writer at CNNUnderscored and was formerly Managing Editor at Tom's Guide. When not at work, you can usually catch him playing Street Fighter, devouring Twitch streams and trying to convince people that Hawkeye is the best Avenger.
Sours: https://www.tomsguide.com/us/alienware-x51,review-2908.html
This is a demo of a seamless insert of an Icecat LIVE product data-sheet in your website. Imagine that this responsive data-sheet is included in the product page of your webshop. How to integrate Icecat LIVE JavaScript.
Amazing performance, blazing fast startups, brilliant HD video, and graphics, battery life that lasts as long as you do, and speed that keeps up with your imagination, that's what you'll find in the 6th Gen Intel® Core™ processors—Intel's best ever. Windows 10 offers more safety for your device, with features like Windows Hello and always-enabled free updates. Gamers experience best-in-class gameplay with Broadcast and Game Mode. And with built-in apps for 3D creation, photos, music, movies, maps and more - Windows 10 Home brings you more creativity and productivity than ever before.Higher Performance When You Need It Most
Intel® Turbo Boost Technology 2.01 accelerates processor and graphics performance by increasing the operating frequency when operating below specification limits. The maximum frequency varies depending on workload, hardware, software, and overall system configuration. Does not contain "conflict minerals": tantalum, tin, tungsten, and gold.
Brand:
The general trademark of a manufacturer by which the consumer knows its products. A manufacturer can have multiple brand names. Some manufacturers license their brand names to other producers.
Alienware
Product name:
Product name is a brand's identification of a product, often a model name, but not totally unique as it can include some product variants. Product name is a key part of the Icecat product title on a product data-sheet.
X51 R3
Product code:
The brand's unique identifier for a product. Multiple product codes can be mapped to one mother product data-sheet if the specifications are identical. We map away wrong codes or sometimes logistic variants.
CAAAWX123JP
Category
Personal Computers, PCs for short, are computers for personal usage. They always have the following components: - A processor (CPU), this is the heart of your computer, where the data processing is done. - Memory (RAM), this is very fast memory in which temporary data is stored before being processed by the processor. - Motherboard, this is the component that connects all the different parts of your computer. Often it has some integrated components like a sound card, enabling your computer to play sound, or a network card, to connect your computer to the network. - Video board, this is the part of your computer that is responsible for the graphics processing. Micro ATX motherboards often have an integrated video board. Those integrated video boards are generally not very well suited for playing games, but good enough for watching movies. - Hard disk, this is the permanent memory of your computer where your data is stored. - An optional DVD/CD player/recorder for reading/writing DVDs/CDs.
PCs/Workstations
Icecat Product ID :
Data-sheet quality:
created/standardized by Icecat
The quality of the product data-sheet can be on several levels:
only logistic data imported:we have only basic data imported from a supplier, a data-sheet is not yet created by an editor.
created by Alienware: a data-sheet is imported from an official source from a manufacturer. But the data-sheet is not yet standardized by an Icecat editor.
created/standardized by Icecat:the data-sheet is created or standardized by an Icecat editor.

Product views:
18956
This statistic is based on the 97136 using ecommerce sites (eshops, distributors, comparison sites, ecommerce ASPs, purchase systems, etc) downloading this Icecat data-sheet since Only sponsoring brands are included in the free Open Icecat content distribution as used by 94642 free Open Icecat users.
Info modified on:
19 Mar 2021 15:59:47
The date of the most recent change of this product data-sheet in Icecat.

Long product name Alienware X51 R3 DDR4-SDRAM i7-6700K Small Desktop 6th gen Intel® Core™ i7 8 GB 1000 GB HDD Windows 10 Home PC Black
:
The short editorial description of Alienware X51 R3 DDR4-SDRAM i7-6700K Small Desktop 6th gen Intel® Core™ i7 8 GB 1000 GB HDD Windows 10 Home PC Black
Intel Core i7-6700K (8MB Cache, 4GHz), 8GB DDR4 2133MHz, 1TB SATA HDD, nVIDIA GeForce GTX 960 2GB GDDR5, WLAN, DVD ± RW, Gigabit LAN, Bluetooth, Windows 10 Home 64bit
More>>>
Alienware X51 R3 DDR4-SDRAM i7-6700K Small Desktop 6th gen Intel® Core™ i7 8 GB 1000 GB HDD Windows 10 Home PC Black:
The official marketing text of Alienware X51 R3 DDR4-SDRAM i7-6700K Small Desktop 6th gen Intel® Core™ i7 8 GB 1000 GB HDD Windows 10 Home PC Black as supplied by the manufacturer
Undefeated awaits.
Play like a pro with the Alienware X51, reengineered with optional liquid cooling and amplified graphics for the power to win the tournament.

Pro-level gaming
You know X51. You've seen it at eSports tournaments and events. The stakes are high and the new X51 will make you better equipped to compete. But you don't have to be front and center at a tournament to experience the size and performance of X51. Now you can play like the pros – straight from your home base.

Choose cutting-edge liquid cooling
Add some edge to your game with optional Alienware SFF Advanced Liquid Cooling to enable CPU overclocking, a first for X51. Expect incredibly quiet, but powerful performance when you need it most. A low profile and compact blower design pushes heat outside the rear of the chassis, and a copper cold plate ensures efficient heat transfer. Plus, all units are 100% leak and weight tested to meet quality requirements.

Get into 4k gaming
Turbocharge your gaming with the optional Alienware Graphics Amplifier. With advanced NVIDIA® or AMD-enabled graphics, you can enable support for Ultra HD 4K gaming for immersive 3840x2160 resolution. That's four times the resolution of 1080p.

When you add the graphics amplifier to the compact X51, you'll have more options when it comes to arranging your desk. You don't need much space, so you can place this duo where you want it.

Even without the amplifier, X51 delivers exceptional gaming performance at 1080p and supports up to an NVIDIA® GeForce® GTX 960 graphics card. The amp is also compatible with Alienware laptops.

Overclocked performance
The new X51 is outfitted with quad-core 6th Gen Intel® Core™ processors and features unlocked K-series processors that enable additional overclocking features so they can be tweaked to boost performance. Our highest-end processor will deliver an overclock of up to 4.4GHz.

With Turbo Boost Technology, your processor runs faster when you need it to and saves battery when you don't. And Hyper-Threading Technology increases performance on multi-threaded tasks so you can run various programs more smoothly. The X51's entire engine has been overhauled since the last generation, now built on a foundation that's based on the Intel Z170 Chipset and the latest DDR4 memory.

Fast PCIe SSDs and substantial storage.
We've added more storage options without sacrificing performance or increasing X51's size so there's plenty of room to archive games, tunes and more. The new X51 supports M.2 PCIe SSDs with a connector positioned alongside the frame that holds the graphics card. Though the drive is positioned on the assembly holding the GPU, it has its own dedicated data connection, eliminating performance sharing or loss. And you never have to worry about electrical interference.

And with PCIe SSDs, all those games, tunes and other media you love will load way faster with up to 4GB/s of total bandwidth

Quick connections
Alienware wants to ensure that you win, and with 802.11ac2x2 WiFi, you can connect quickly to download faster, stream easily, and enjoy smoother overall gaming. X51 also includes a Gigabit Ethernet port for maximum networking performance.

Versatile design
Key components – including the GPU, CPU, memory and hard drive – are easy to access on the Alienware X51, so you can upgrade your arsenal easily. Besides the chassis, your processors, graphics card, memory, wireless controller and hard drives are all upgradeable to support future expansion. Plus, you can maximize your space with dual orientation for vertical or horizontal configuration.
Short summary description Alienware X51 R3 DDR4-SDRAM i7-6700K Small Desktop 6th gen Intel® Core™ i7 8 GB 1000 GB HDD Windows 10 Home PC Black:
This short summary of the Alienware X51 R3 DDR4-SDRAM i7-6700K Small Desktop 6th gen Intel® Core™ i7 8 GB 1000 GB HDD Windows 10 Home PC Black data-sheet is auto-generated and uses the product title and the first six key specs.
Alienware X51 R3, 4 GHz, 6th gen Intel® Core™ i7, 8 GB, 1000 GB, DVD±RW, Windows 10 Home
Long summary description Alienware X51 R3 DDR4-SDRAM i7-6700K Small Desktop 6th gen Intel® Core™ i7 8 GB 1000 GB HDD Windows 10 Home PC Black:
This is an auto-generated long summary of Alienware X51 R3 DDR4-SDRAM i7-6700K Small Desktop 6th gen Intel® Core™ i7 8 GB 1000 GB HDD Windows 10 Home PC Black based on the first three specs of the first five spec groups.
Alienware X51 R3. Processor frequency: 4 GHz, Processor family: 6th gen Intel® Core™ i7, Processor model: i7-6700K. Internal memory: 8 GB, Internal memory type: DDR4-SDRAM, Memory clock speed: 2133 MHz. Total storage capacity: 1000 GB, Storage media: HDD, Optical drive type: DVD±RW. On-board graphics adapter model: Intel® HD Graphics 530, Discrete graphics adapter model: NVIDIA® GeForce® GTX 960. Operating system installed: Windows 10 Home, Operating system architecture: 64-bit. Power supply: 330 W. Product type: PC
Sours: https://icecat.biz/en/p/alienware/caaawx123jp/pcs-workstations-x51+r3-30366179.html
Alienware X51 review
Alienware x51 desktop review:
Alienware x51 desktop
A midtower gaming PC still offers better upgrading and more hardware for your money, but if you need the X51's smaller footprint, or you just want a competent gaming system for a reasonable price, this system would be a good choice.
Alienware quite obviously looked to the PlayStation 3 and the Xbox 360 to guide the design of the X51. That inspiration has pluses and minuses. The X51's slim-tower chassis measures a tidy 13.25 inches high, 3.75 inches wide, and 12.25 inches deep, making it only a little bit larger than those gaming consoles in overall volume. The fact that the X51 can stand upright or lie down flat on its side is useful. The X51's glossy black front panel and slot-loading DVD burner would also fit in with the aesthetics of any media rack. Even Alienware's signature "alien eye" side panel cut-outs give the X51 a certain charm, thanks to a refined design.
However compact and crafted, the X51 can't boast a console's couch-friendly ease of use. You still need to install games, tweak video drivers, and otherwise endure the various idiosyncrasies of PC gaming. In the X51, Alienware is clearly trying to offer a gaming PC packaged for mass consumption. There's nothing wrong with that, but for all the X51's visual appeal, let's all pause to remember: this is still a Windows gaming computer.
The Alienware X51's design has room for a full-height graphics card.
What's remarkable is that Alienware can credibly call the X51 a gaming desktop. I've seen many slim-tower desktops. The limitations of their design (or perhaps their designers) have saddled those smaller PCs with half-height graphics cards, so described because they're short enough vertically to fit inside those narrow slim-tower cases.
Alienware has done away with that limitation in the X51. Instead, this system has a full-height 3D card, sandwiched on top of the motherboard. With the motherboard affixed to the right-hand panel per usual, Alienware has used a connector card to bridge the gap between the graphics card and the PCI Express slot. That it's capable of accepting a full-height 3D card means the X51 is a better gaming machine than any other slim tower we've tested.
Alienware X51
Lenovo H330 77801HU
Velocity Micro Edge Z40
Price
$999
$799
$1,199
Motherboard chipset
Intel H61
Intel H61
Intel P67
CPU
3.0GHz Intel Core i5-2320
3.3GHz Intel Core i5-2500
4.0GHz Intel Core i5-2500K (overclocked)
Memory
8GB 1,333MHz DDR3 SDRAM
8GB 1,333MHz DDR3 SDRAM
4GB 1,333MHz DDR3 SDRAM
Graphics
1GB Nvidia GeForce GTX 555
1GB AMD Radeon HD 6450
1GB Nvidia GeForce GTX 560Ti
Hard drives
1TB 7,200rpm
1TB 7,200rpm
1TB 7,200rpm
Optical drive
dual-layer DVD burner
Blu-ray player/DVD burner combo
Blu-ray/DVD burner combo
Operating system
Windows 7 Home Premium (64-bit)
Windows 7 Home Premium (64-bit)
Windows 7 Home Premium (64-bit)
The Lenovo H330 listed above offers a typical competing slim-tower build. It's not as expensive as the Alienware X51, and it actually has a faster CPU and a Blu-ray drive, but the half-height, budget AMD graphics card can't compete with the Alienware's full-fledged Nvidia GeForce GTX 555 card. On the other hand, for just $200 more than our $999 X51, you can turn to the Velocity Micro Edge Z40 for a true gaming midtower, complete with an overclocked CPU.
Our benchmark charts outline the performance difference between these and other PCs. What you'll see from comparing the features is that while the X51 is faster than competing slim towers like the Lenovo H330, Alienware asks a premium for its new desktop beyond typical commodity PC pricing. You can also get a faster computer in a standard performance midtower. Given the innovation Alienware has brought to slim-tower design, I don't find Alienware's asking price unreasonable. I also won't be surprised if another vendor copies Alienware's design and comes in at a lower price.
I've written about enough general-purpose desktops that run games poorly, it's almost refreshing to see a gaming PC with subpar non-gaming application performance. The Alienware X51 is not an incapable computer. I felt no obvious lag during general Web browsing or system navigation. Still, the X51's 3.0GHz Core i5-2320 chip is the slowest in this comparison, and it shows. This system will be fine for day-to-day media consumption and light-duty media editing, but you can get more for your money elsewhere. Alternatively, you can buy an X51 with a Core i7 CPU upgrade for $1,149.
Crysis (in fps)
(Longer bars indicate better performance)
| | | | | | |
| --- | --- | --- | --- | --- | --- |
| | 1,600x1,200 (high, 4x aa) | | | 1,280x1,024 (medium, 4x aa) | |
Far Cry 2 (in fps)
(Longer bars indicate better performance)
| | | | | | |
| --- | --- | --- | --- | --- | --- |
| | 1,920x1,200 (DirectX 10, 4x aa, very high) | | | 1,440x900 (DirectX 10, 4x aa, very high) | |
Metro 2033 (in fps)
(Longer bars indicate better performance)
| | | | | | |
| --- | --- | --- | --- | --- | --- |
| | 2,560x1,600 (DirectX 11, very high) | | | 1,920x1,080 (DirectX 11, very high) | |
3DMark 11 combined test (in fps)
(Longer bars indicate better performance)
| | | | | | | | | |
| --- | --- | --- | --- | --- | --- | --- | --- | --- |
| | Extreme (1,920x1080) | | | Performance (1,920x1,080, 16x AF) | | | Entry level (1,680x1,050) | |
The X51's gaming results paint a much rosier picture. The most interesting comparison is with the HP Pavilion Elite h8xt. The h8xt is a $1,299 do-it-all midtower with an AMD Radeon HD 6850 graphics card. The X51 is not as fast as the h8xt, but it comes awfully close on every gaming test. Not too shabby for a slim tower that costs $300 less.
Anecdotally, I can also report that the Alienware X51 can run current popular titles with no hiccups. I had no trouble playing Battlefield 3 at high image quality, and The Elder Scrolls V: Skyrim on its "ultra" setting, both at 1,920x1,080-pixel resolution.
Given the system's convertible design, its facility with 1,920x1,080 games is probably no coincidence. That's the same resolution as an HDTV. Bump the resolution to 2,560x1,440 pixels and you will run into slowness. I expect the same would occur if you enabled 3D viewing. And although there are few high-profile "next-gen"-looking games on the immediate release horizon, I can't guarantee the Alienware X51 will be ready to deal with next year's most demanding PC games. For now, the Alienware X51 is a perfectly decent gaming desktop.
If you want to improve the X51 post-purchase, you have some options, but not as many as true tweakers might like. Its Core i5 chip is not a K variant, so it's not as easy to overclock. You get only two RAM slots, so memory upgrades will require wholesale replacement of the current memory sticks. The single hard-drive slot hides underneath the graphics card. You will also remain firmly in midrange graphics card territory thanks to the 330-watt power supply and the relatively short case depth. You do at least get a second graphics card power supply connector.
This slide-out tab only has a preview unit sticker on it now, but on the shipping version it will hide all of those ugly branding stickers PC owners loathe.
Alienware includes a few welcome extras with the X51. To the left of the graphics card, you'll find a mysterious plastic tab. Pull it, and you'll see where Alienware has posted those unsightly service and partner branding tags. Open the Windows Start menu and you'll find the Alienware folder, which holds various programs for tweaking and monitoring system settings and adjusting the external lighting.
For connectivity, the Alienware X51 lined up with my expectations. Highlights include a pair of USB 3.0 ports, digital audio output and 7.1 audio outs, and a pair of DVI jacks and a Mini-HDMI port on the graphics card. I won't be surprised if a year from now the X51 has a new motherboard with a Thunderbolt port on it.
Juice box
Alienware X51
Average watts/hour
Off (watts)
1.02
Sleep (watts)
2.41
Idle (watts)
52.68
Load (watts)
193.26
Raw (annual kWh)
313.709
Energy Star-compliant
Yes
Annual power consumption cost (@$0.1135/kWh)
$35.61
The Alienware's power consumption is a touch out of proportion to its capabilities. In a perfect world, it would require less power than the faster Hewlett-Packard system. Perhaps that's due to the Alienware's external power brick. In terms of noise generation, the Alienware X51 is average. I didn't notice the fans ramping up past what I expected during game testing. Alienware, owned by Dell, backs the X51 with a straightforward one-year parts and labor warranty. You get discretionary home repair service, 24-7 phone support access, and remote diagnosis capability through DellConnect. You also get to face the perils of Dell's call center support.
Conclusion
Gaming desktop traditionalists, this PC is not for you. You'll hate the limited upgrade path. I have no hesitation recommending the Alienware X51 to everyone else, in particular those who've ever felt put off by the process of buying or building a gaming computer.
Find out more about how we test desktop systems.
System configurations:
Alienware X51 (Core i5-2320, January 2012)
Windows 7 Home Premium 64-bit; 3.0GHz Intel Core i5-2320; 8GB 1,333MHz DDR3 SDRAM; 1GB Nvidia GeForce GTX 555 graphics card; 1TB 7,200rpm hard drive
Gateway FX6850-51u (Core i7-2600, May 2011)
Windows 7 Home Premium 64-bit; 3.4GHz Intel Core i7-2600; 8GB 1,333MHz DDR3 SDRAM; 1.5GB Nvidia GeForce GT440 graphics card; 1TB 7,200rpm Hitachi hard drive
HP Pavilion Elite h8xt (Core i7-2600, August 2011)
Windows 7 Home Premium 64-bit; 3.4GHz Intel Core i7-2600; 8GB 1,333MHz DDR3 SDRAM; 1GB AMD Radeon HD 6850 graphics card; 1.5TB 7,200rpm Seagate hard drive
Lenovo H330 77801HU
Windows 7 Home Premium 64-bit; 3.0GHz Intel Core i5-2500; 8GB 1,333MHz DDR3 SDRAM; 1GB AMD Radeon HD 6450 graphics card; 1TB 7,200rpm hard drive
Velocity Micro Edge Z40
Windows 7 Home Premium 64-bit; 4.0GHz Intel Core i5-2500K (overclocked); 4GB 1,333MHz DDR3 SDRAM; 1GB Nvidia GeForce GTX 560Ti graphics card (overclocked); 1TB 7,200rpm Hitachi hard drive
Sours: https://www.cnet.com/reviews/alienware-x51-desktop-review/
Specs x51 alienware
The last time we looked at Dell's Alienware X51 series of console-sized gaming PCs was back in mid-2013. Back then we were working with Intel's 4th generation Haswell Core Seriesprocessors and NVIDIA's GeForce GTX 600 seriesGPUs based on their Kepler graphics core. Our man Paul, frankly, was spouting off a bit wildly about aliens serving humans for dinnerand, well, let's just say it made for interesting reading. But that was so 2013, and like anything in life, seasons change and architectures evolve. Paul is still nuttier than a fruit cake but that's a different story all together, so we'll just stay on task.
The Alienware team has been relatively quiet for the past 18 - 24 months or so with respect to their X51 small form factor gaming rigs, but Intel's recent Skylake processor launchand NVIDIA's further optimizations in their MaxwellGPU architecture have given the company a frenzied salvo of artillery fire power for their tiny but mighty gaming PC product line. To boot, the past few months have brought forth new innovation at the platform chipset level, as well as within the storage space. And so it was fitting that, almost from top to bottom, the Alienware X51 R3 was given a complete overhaul of the lastest technologies, all of which play very well with the tighter power budgets and thermal constraints of this class of machine.
Alienware calls their new machine simply the X51 R3, as it's the third revision of the product -- and here it is, in the flesh.
#PCMasterRace - Consoles wish they had the chops.
Dell Alienware X51 R3 Small Form Factor Gaming PC
Specifications & Features
Processor


Intel Core i7 6700K Water-Cooled And Overclocked

Operating System


Windows10 Professional

Chipset


Intel Z170 Express Chipset

Graphics


Intel HD Graphics 530
NVIDIA GeForce GTX 960

Memory


16GB DDR4 2133MHz DRAM
Storage


Samsung SSD PM951 M.2 256GB PCIe NVMs Solid State Drive
Toshiba 2TB (7200 RPM) SATA 6G Hard Drive

Networking


Intel Maple Peak 17265NGW AC WiFi With Bluetooth 4.0
10/100/1000 Ethernet LAN
Front Panel Ports



2 x USB 3.0; Headphone and Mic

Rear Panel Ports



4 x USB 3.0; 2 x USB 2.0; GbE LAN; HDMI; 3xDisplayPort, DVI-D Optical S/PDIF; Audio inputs, Graphics Dock

Sound


Integrated 7.1 channel surround sound

Power Supply


330W (19.5V, 16.9A)

Dimensions


13.504 (H) x 12.52 (D) x 3.74 (W) inches

Weight


12.1 pounds

Manufacturer Warranty


1-year

Pricing:


Starting at $699 -- $1,999 (as configured)

---
The rundown of specs here for the new X51 R3 reads like a veritable menu board of the latest PC technologies, from Windows 10 to Intel's Skylake Core i7-6700K processor and companion Z170 motherboard chipset, NVIDIA's GeForce GTX 960, 16GB of DDR4-2133 memory and yes, none other than Samsung's PM951 M.2 PCI Express NVMe Solid State Drive. And to ice the cake further, Alienware dropped in a custom self-contained water cooler that keeps the system quieter under load while affording a modest overclock on the processor to 4.4GHz max Turbo Frequency.


Dell Alienware X51 R3 With 330 Watt DC Power Brick - Geek Paw For Scale


Even though the internals of the X51 R3 are significantly more powerful than the previous generation R2 setup we tested, Alienware has managed to keep within the same power envelope and as such the same 330 Watt power brick from the last version was employed again with this new model. In fact, it's about the only component that stayed the same with the X51 R3, save for a few miscellaneous items and its external skins. Cosmetically, the X51 R3 still looks slick, current and well-made versus similar sized systems on the market. It clearly targets enthusiasts with its AlienFX lighting accents while measuring a little bigger than an Xbox 360, though not quite as big as the Xbox One -- both of which are begging for a beat-down by this feisty little fellow. Let's drop in for a closer look.

Sours: https://hothardware.com/reviews/alienware-x51-r3-review
Alienware x51 R3 Specs gaming PC amps up with liquid cooling, latest Intel chip
The robe instantly got wet and stuck to her body. Elastic breasts and dark, hard papillae were clearly visible through him. She was almost pressed against me.
Similar news:
But only if you fuck me in the ass. I decided that my ass will be just for you dear. " Anal sex, Group sex, Blowjob, Watchers, Mature, Swingers, Traditional sex, Erotic fantasies about sex, Fantasy, Sex with a mature woman, Cuckold, MFM.
9984
9985
9986
9987
9988